Finishing system installation part of wider technology investment.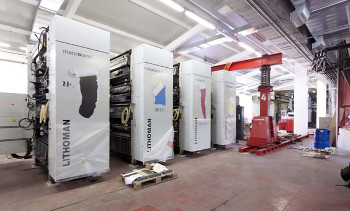 Rotolito Lombarda is installing a manroland Lithoman IV press to enable it to increase production capacity to meet European-wide demand for its productsItalian based publishing and commercial print supplier, Rotolito Lombarda, has completed installation of an inkjet technology based finishing system, the MGI JETvarnish 3D with I-foil. This latest investment has been undertaken to enable the company the opportunity to offer its growing European publishing customers a means to add value to digitally printed publications which it believes will deliver increased product differentiation and higher profit margins.
---
The MGI system allows Rotolito Lombarda's customers to include a number of special effects on pre-printed sheets, such as spot varnish, hot foiling, embossing or 3D effects with three different levels of thickness, ranging from 8 to 100 microns.
Adam Phillips, UK Business Development Director, Rotolito Lombarda, said, "The UK publishing industry is highly competitive and as such, publishers are looking for new ways to add value to products and ensure they stand out on the shelf. This new digital finishing system, in addition to our existing, traditional varnishing systems for offset printing, offers them a way to achieve this.
"Our continued investment in cutting-edge technology, combined with our market-leading approach to customer service and product quality, fuels our rapid growth in the UK market."
Rotolito Lombarda has also begun installation of its new manroland LITHOMAN IV press, another investment taken to enable it to increase production capacity to meet European-wide demand for its products, while at the same time maintain its high-quality, quick turnaround service.
This latest addition to the company's production site in Cernusco Sul Naviglio, Italy, is the third significant technology installation in less than a year.
"At Rotolito Lombarda, we are always focused on continuous innovation and ensuring that our growing global customer base benefits from our extensive, head-quarter production facilities," commented Paolo Bandecchi, President and CEO, Rotolito Lombarda. "By installing the latest printing and finishing systems, our customers, wherever they are in the world, can streamline their supply chains by using one supplier to fulfil numerous print jobs, confident that they will receive a consistently high-quality product and service."
The manroland LITHOMAN IV press will be dedicated to the production of magazines, books and commercial flyers and is earmarked to be in operation by the end of October.
"This latest press installation will allow us to take on more jobs and deliver them in a shorter timeframe. By maintaining a fast, responsive service, we can help our customers take their book and magazine products to market faster or benefit from being able to develop time-sensitive marketing campaigns, which include high-quality printed collateral," said Bandecchi.
This new press will be the seventh web press in operation at the Cernusco sul Naviglio plant of Rotolito Lombarda. Other presses include: a second manroland LITHOMAN 48 pages, two manroland LITHOMAN 72 pages, two KBA 618 48 pages and a Mitsubishi 48 pages. Rotolito Lombarda's offset fleet now includes 10 sheetfed and 14 web presses.
Rotolito Lombarda's said its production sites maintain a high-level of cleanliness and order despite a consistently busy working environment and the extensive amount of equipment in operation. It added that to prevent damage and ensure maintenance of the new manroland LITHOMAN press, the panels will be covered with a protective film, called "Finito® dress", produced by Printgraph SpA with graphic elements printed by Rotolito Lombarda. This film is easily removed and replaced, leaving the original panelling unaffected by day-to-day wear and tear.
http://www.rotolitolombarda.it
Follow us on Twitter - @DigiPrintNews
Like us on Facebook www.facebook.com/DPNLive - (click the 'LIKED' button/top of page as well)
Copyright © 2014, DPNLIVE – All Rights Reserved.