The next generation continuous feed inkjet platform to shape the future.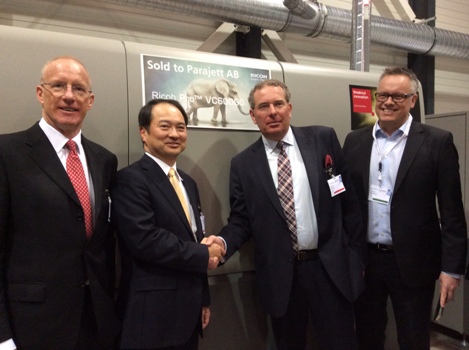 L – R Peter Williams - Executive Vice President, Production Printing Business Group, Ricoh Europe Yasuhiko Hosoe - Corporate Associate Vice President, General Manager Business Strategy Centre, Production Printing Business Division, Ricoh Company Ltd Anders Persson, CEO, Parajett Tommy Segelberg, Director Nordic Operations, Production Print Business Group, Ricoh EuropeParajett, one of the largest printers in Scandinavia, based in Sweden, has been confirmed as yet another print service provider to order the new Ricoh Pro VC60000 continuous feed production inkjet.
The company, an IT specialist and provider of direct response marketing promotional production for commercial clients, has also ordered a Ricoh Pro C9110.
Keen to further enhance its expertise in the print production market, Anders Persson, Chief Executive Officer, Parajett, recognised the potential offered by the Ricoh Pro VC60000. He was also confident that it would deliver the quality and performance expected and adoption would be smooth thanks to many of its market leading features.
Persson said: "Parajett has seen the future of graphic arts production. And we are investing in it. We are confident that Ricoh's Pro VC 60000 will meet all our demands, for a versatile production platform, delivering outstanding print quality that can adapt and grow with Parajett. This is why we placed this order with Ricoh that initially comprises one duplex system line."
Parajett uses both offset and digital technologies. Persson continued: "Right from the beginning our focus was on unique and personalised documents. Today we produce individual offers or information to each receiver and the Ricoh Pro VC60000 will help us continue to offer that high quality service."
"The versatile colour Ricoh Pro VC60000 was chosen by Parajett for its print quality and its ability to deliver a strong return on investment," says Tommy Segelberg, Director Nordic Operations, Production Print Business Group, Ricoh Europe. "Also the fact that it will allow Parajett to print with ink rather than toner and on a wider range of stock, particularly heavier grammages, will enable the business to expand its service capabilities."
It is powered by the TotalFlow Print Server R600A, Ricoh's own Digital Front End, developed to meet the needs of demanding graphic arts environments and applications. With Ricoh-developed long-lasting print heads and high viscosity pigment inks, it achieves a physical resolution of up to 1200x1200 dpi with a variable drop size within each pixel to provide significant additional perceived print quality. It can run at nearly 100,000 A4 images per hour and provides support for uncoated, coated offset, digital, treated and recycled papers.
Parajett's investment also includes an undercoat unit to enable it to print on a broad variety of media, including offset coated stocks; a protector coat unit to deliver durable "scratch & scuff resistance" on coated paper; and a hot air knife dryer that ensures that ink dries quickly, in a power-efficient manner.
The Ricoh Pro C9110 durable high volume digital colour press is billed as the fastest press in is class with a production speed of 130ppm. It has a duty cycle of 1.75 million coupled with the ability to print on textured substrates and media up to 400 gsm, including textured stocks, specialty media such as super-gloss, magnet, metallic, transparent or synthetic, at full rated speed. Its new toner delivers a larger colour gamut and it can offer a 700mm print length for banners, a wide range of finishing options and the ability to integrate third-party options. The press uses VCSEL technology to produce 1200×4800 dpi output.
The Ricoh Pro VC60000 received its first public showing at Hunkeler Innovationdays, 23-26 February, Lucerne, Switzerland.
For further information, please visit www.ricoh.ie
You can Tweet, Like us on Facebook, Share, Google+, Pinit, print and email from the top of this article.
Copyright © 2015, DPNLIVE – All Rights Reserved.