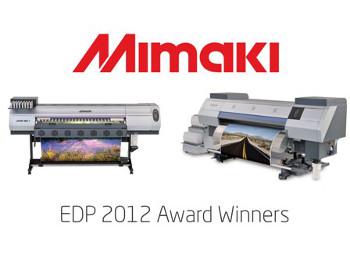 EDP 2012 WinnersMimaki's advances in print technology have been boosted by winning two coveted European Digital Press (EDP) Association Awards. This recognition by industry professionals is an endorsement of the company's strides over the last year or two to bring to the table products which deliver both excellent price/performance ratio and sustainability.
Mimaki won the Best Wide Format Textile Printer accolade for the Mimaki TS500-1800, while the Mimaki JV400-LX Series was named the Best Environmental Printing Solution.
The EDP Association cited the Mimaki TS500-1800 because of its"breakthrough in price and performance for indirect dye sub printing and a print speed of 150m2/h". Mimaki said that the TS500-1800 has been designed to provide a "powerful solution for the fashion/sportswear exhibition graphics and retail POS markets" where a combination of speed and high quality are vital components for responding to volume demand. The printer is expected to be available in June 2012.
The second printer to win an award, the new Mimaki JV400-LX Series is a latex printer featuring what Mimaki claim is 'state a state of the art, environmentally friendly ink'. It also received high praise from the EDP Association.  A spokesperson said: "With the new piezo head, the viscosity of the ink is higher, meaning less drying time. Combined with the white ink option and lower energy consumption, the Mimaki JV400-LX is a worthy winner."
Mimaki products are distributed exclusively in the UK and Ireland by Hybrid Services Ltd. Marketing manager Duncan Jefferies commented:
"The range of textile solutions available from Mimaki continues to grow and to receive such an accolade for the TS500 is a great appreciation of what the company is achieving," he said. "For the EDP to recognise the exceptional environmental credentials of the Mimaki JV400 latex printer is equally high praise."
The EDP Association is a not-for-profit organisation that recognises the latest innovations in the digital print industry. The Association comprises publishers of leading European magazines devoted to digital printing and associated products. The publications cover 14 countries, with a readership exceeding one million graphic arts professionals.
Awards presented by the EDP are designed to acknowledge best-in-class products across the digital print landscape following an assessment by the organisation's independent panel of digital print experts.
"It's always an honour to be recognised by highly respected print professionals," said Mike Horsten, Marketing Manager at Mimaki. "The award underlines our commitment to research and development, and to delivering the very best products to our customers."
Copyright © 2012, DPNLIVE – All Rights Reserved