Company to showcase new solutions and

auxiliary products for direct-to-textile

digital printing at exhibition.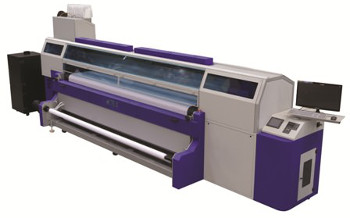 The MTEX 5032With direct-to-textile printing dominating industry news these days, Portuguese-based manufacturer MTEX believes 2014 will see it harvest additional sales and growth.
The company has reported that sales of its MTEX 5032, 1800 and TurboSub printers have risen dramatically since their showing at FESPA London last year. This year they expect even further growth as the company's technology continues to play a leading role in direct-to-textile printing, with over 70 units now installed across Europe.
In response to the needs of customers, MTEX is developing new products intended to support this growth, and will be launched at FESPA Munich, (Hall A1, Stand 230). .
These new MTEX products have been developed for pre and post production digital direct to fabric printing. The company said that the new auxiliary products used before and after printing will change the normal digital printing industry parameters and standards by eliminating the need for customers to go to third party solutions, which involved heavy investment.
In essence, MTEX is now offering to provide a complete direct to fabric digital printing solution to customers, from pre-production, to installation and technical support of the complete line.
Eloi Ferreira, CEO of MTEX commented; "Direct to textile printing is now. The benefits of textile printing like environmental considerations; low carbon footprint, water-based inks, no harmful VOC's, ease of transportation, recyclability and durability are all accepted as fact and important to print service providers and customers alike. New fabrics and printing processes become more accessible through innovation and our dedicated research and development team at MTEX are continually striving to push the boundaries of what is achievable through direct to textile print. We welcome visitors to FESPA to come and see for themselves how MTEX is leading the way in this market. New pre and post equipment will be launched at FESPA to complement digital printing MTEX solutions. We are totally dedicated to helping customers choose the right solution and be confident in training, back up and support should they need it. We have bases across Europe and have recently opened our showroom in Germany, as well as our headquarters in Portugal and soon the UK."
MTEX 1800
The MTEX 1800 is a direct-to-fabric sublimation printing solution with integrated fixation. This new machine is aimed at sign-makers and graphic display professionals and offers the ability to print and fix durable, colourfast textiles using one footprint in an all-in-one solution.
With a printing speed of up to 48 m2/h and resolutions up to 1440dpi, the MTEX 1800 is intended to saves time and money for users with little or no waste due to its direct to textile nature. There is no need to print onto paper and then transfer. The new MTEX 1800 is being marketed as a true textile printer, designed specifically for the sign & display market.
MTEX 500
The MTEX 500 is also being shown at the show. It's hailed as a revolutionary new digital textile printer aimed specifically at the fashion and garment textile industry. With an adhesive belt designed to hold knitted and woven fabrics, MTEX pointed out that as such, the device is a very exciting development in its range of direct-to-textile printers.
It comes in two versions – the MTEX 500P which is specially adapted for polyamides, lycras and stretched fabrics, has a unique feeding system and an integrated horizontal dryer. The MTEX 500C is for NON-stretched fabrics. Both offer the possibility to print on a wide range of textiles including cotton, polyamides, silks and nylon.
Main features of the MTEX 500:
6 x Ricoh G5 print heads;
Maximum printing speed up to 150 sqm;
Printing width up to 1800 mm
Adhesive belt for knitted and woven fabrics;
Automatic Washing belt device;
Infrared drying system;
2-liter ink bulk system;
Synchronized roll feeding system
MTEX 5032
Additionally, the MTEX 5032, a 3.2 metre wide direct-to-fabric print solution, complete with integrated fixation unit for the Dye Sub market will be on show. This machine saw its worldwide debut at FESPA London in 2013.
The MTEX 5032 enables print service providers to deliver vivid colours in wide format fabrics at a maximum speed of 62 m2//h and maximum print quality of 1440 dpi. It's suitable for printing applications such as lightboxes, home textile decoration, flags, interiors and much more – which MTEX added was the best investment to quality ratio in the market today.
MTEX TurboSub
The MTEX TURBO SUB is high-production digital textile print solution for the Dye Sub market. This direct-to-fabric sublimation printing solution with integrated fixation unit was also presented at FESPA London 2013.
With a printing speed up to 148 m2/h and resolutions reaching 1200dpi, the MTEX TURBO SUB is considered extremely fast compared to others in its' class and is able to deliver high quality output at this printing speed.
Thanks to the new print-head technology, MTEX said it will print three times faster than any other direct sublimation machine currently on the market. This new MTEX TURBO SUB was specifically designed for customers with high-demanding print production.
www.mtex.eu
http://www.fespa.com/digital/
Follow us on Twitter - @DigiPrintNews
Like us on Facebook www.facebook.com/DPNLive - (click the 'LIKED' button/top of page as well)
Copyright © 2014, DPNLIVE – All Rights Reserved.