RMC Digital opts for the benefits of

green LED curing in latest investment.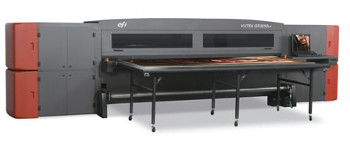 EFI VUTEk® GS3250LXUK display specialist RMC Digital has taken delivery of its third printer in three years from EFI™. The company has just installed an EFI VUTEk® GS3250LX 3.2m flatbed and roll-fed machine that incorporates 'cool cure' LED curing. This latest investment follows on from its original decision to invest in a VUTEk printer when the company was first formed in 2010.
RMC Digital specialises in producing multi-layered graphics as well as general wide-format displays, and the use of white ink plays a key role in the company's applications. After the purchase of a VUTEk QS3250 for its first production machine, superwide-format, double-sided and multi-roll capabilities were added when it invested in a VUTEk GS5000r 5m printer.
The recent installation at RMC Digital of the VUTEk GS3250LX came on the back of considerable research into the best machine for the company's purposes. A visit to EFI's customer experience centre in Brussels however convinced the Hull based company of the benefits of the VUTEk GS3250LX, and the decision was made to opt for LED curing. RMC said it was impressed not only with the greener benefits of moving away from mercury arc lamps, but also with the new inks that give greater elasticity and the white, which it felt offered excellent opacity.
"We were thinking about upgrading and, although we looked at other machines on the market, it was an easy decision to stay with EFI", stated Nicole Spencer, operations manager at RMC Digital. "Not only are we familiar with VUTEk printers and Fiery XF RIP software, we also wanted the benefits of the company's 'cool cure' LED technology. We also need to be able match colour across all our devices, and this is simple to achieve with our VUTEk machines. The LED curing also means we can print direct to materials that we haven't been able to consider before because the heat of the conventional lamps could cause buckling and surface damage."
RMC Digital has a nationwide client base and provides a complete design, manufacturing and installation service for its customers. Specialising in double-sided block-out and 'night and day' graphics, it also produces a wide range of general displays, wallpapers, floor graphics, scaffold wraps and canvas prints.
http://www.rmcdigitalprint.co.uk/

Follow us on Twitter - @DigiPrintNews
Like us on Facebook www.facebook.com/DPNLive - (click the 'LIKED' button/top of page as well)
Copyright © 2013, DPNLIVE – All Rights Reserved.