HP T400 Color inkjet web press to enable first high-volume digitally printed newspaper at Mengis Druck AG.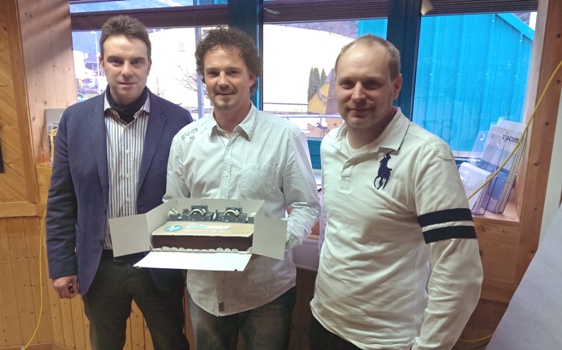 L-R Nicolas Mengis (Owner and chairman of the Board, Mengis Gruppe), Martin Seematter (Head of Mengis Druck AG) and Alvaro Karlen (Head of Finance & Personnel, Mengis Gruppe). Swiss based Mengis Druck AG has purchased the first HP T400 Color Inkjet Web Press in the country. The company confirmed that the new HP T400 will also be the first digital press to be used solely for the production of its high-volume newspaper, the Walliser Bote. HP said that with a daily run length of 22,000, digital production of the Walliser Bote marks an important milestone for the graphic arts industry.
Mengis Druck's new press is designed for high-volume, high-speed production. With a scalable print width of up to 1060mm, the HP T400 prints up to 183m per minute and includes advanced web tension controls and dryer systems to help provide reliable, fast and consistent productivity.
In addition, the press prints on virtually any standard uncoated or newsprint paper, as well as on a range of coated papers.
"The new HP T400 will help Mengis Druck to meet the production demands of creating and publishing high volumes of Walliser Bote. In addition, a significant part of our commercial print jobs can be produced on the HP T400, for which we can utilise the personlisation capabilities of the press," said Nicolas Mengis, Owner, Mengis Group. "It was important to us that the new press would fit in with our existing production line and, after extensive research and several tests of similar products, our decision to purchase an HP T400 was an easy one. It was obvious that this press would meet our every need and, with HP's support services, we know that we will build a successful relationship with them as we move our business from offset to digital."
As part of the company's complete transition from web-offset to digital, Mengis Druck will gradually move full production of the Walliser Bote to the HP press, with the aim for it to be exclusively digitally produced by the end of 2015. The HP T400 will replace an older web offset printing press and will also be used to print commercial products.
More information is available at www.youtube.com/hpgraphicarts or follow HP on www.twitter.com/hpgraphicarts.
You can Tweet, Like us on Facebook, Share, Google+, Pinit, print and email from the top of this article.
Copyright © 2015, DPNLIVE – All Rights Reserved.