Bordeaux will be introducing new business opportunities for print shops.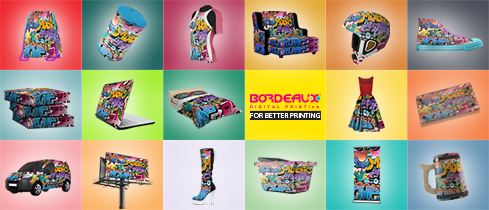 Presenting at FESPA Amsterdam (hall 7 S150) new business opportunities for print shops, Bordeaux brings solutions to all applications under one roof
Bordeaux Digital Printink has been a leading ink manufacturer for the past 15 years. It will introduce the full range of inks for every application at FESPA (hall 7 S150).  Print shops can now buy a wide range of inks for all applications and printers from the one supplier.
Bordeaux is now able to provide the digital printing market with the full range of solutions with the introduction of its new pigment ink for all types of textiles. The new segment of textile inks completes the high quality existing solutions for the wide format sign and banner inks as well as the inks for industrial printing applications, as well as tailor-made inks.
Guy Evron is the Marketing Director.  He said:
"We are excited to offer our visitors at FESPA a new stand concept and experience, which will allow them to enjoy our ink solutions in a different way. People will be able to seat on, touch, and use many types of applications, printed with Bordeaux inks and to see how Bordeaux is changing the map for the printing industry".  
Print shops can broaden their services by using Bordeaux inks to print on all types of applications, thus significantly expending their business opportunities  Applications include the home décor, fashion, signage and home textiles, to name just a few.  As Industries are becoming more demanding, print shops are required to provide more complex solutions.  As usual, Bordeaux is standing up to the challenge, offering more and more inks, to suit every need.   
For more information about Bordeaux printing technologies please contact: Nufar Kiryati, Bordeaux Press contact, email: This email address is being protected from spambots. You need JavaScript enabled to view it., Tel: +972-8-9321800 ex709