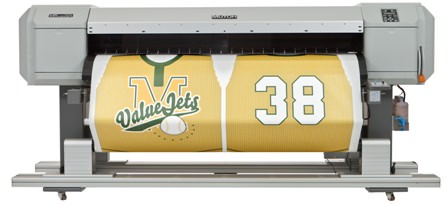 Mutoh VJ-1638W pressMutoh Belgium launched its new ValueJet 1638 line at Sign + Digital UK 2012 and inCOM France 2012 trade shows last week. Both new four-colour 64" (165 cm) wide high speed printers are Mutoh's first valuejet printers to feature a staggered dual head setup, which the company says offers improved productivity.
The new ValueJet 1638 model, with a production speed up to 36 m2/h at 720 x 720 dpi, focuses on the sign & display market.  This printer uses Mutoh Eco Ultra CMYK inks and aims to address the needs of PSPs and commercial printers seeking a high volume printing solution. The second new model, the ValueJet 1638W was designed specifically for the sublimation transfer market. It is capable of delivering production speeds up to 65 m2/h and uses Mutoh water-based direct disperse inks.
The new dual head printers incorporate Mutoh's Intelligent Interweaving print technology and also feature a newly designed keyboard, an automatic sheet off system and a tiltable ink cassette holder to save space and enable loading of different ink volumes.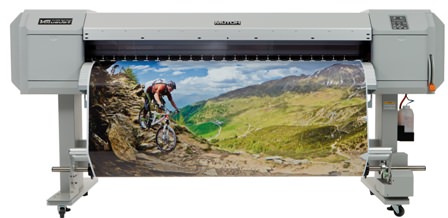 Mutoh VJ1638 pressMutoh believes the new staggered head setup is a good example of how '1+1' can be more than '2'.  In essence three elements have been brought together. First of all two latest generation 1440 nozzle heads in a staggered setup; second, higher carriage speeds and ink firing frequencies thanks to new machine electronics; and last, adapted weaving algorithms tuned to the new print heads.  Mutoh says this mix significantly increases production speed combined with an optimised ink spread and improved drying behaviour.
"The new 64" wide ValueJet 1638 line will enable us to perfectly address the needs of volume-oriented users requiring high print speeds and who at the same time put impeccable print quality on top of their wish list", says Arthur Vanhoutte, general manager, Mutoh Belgium.
"The ValueJet 1638 is now the fastest 64" Eco printer on the market today! It will replace our Blizzard 65" model and is an addition to the recently launched ValueJet 1324 – 54" and ValueJet 1624 – 64" models. The ValueJet 1638W has been purpose-built for high-speed digital transfer printing. This model will replace our Viper Extreme 65" printer and complement our existing ValueJet 1304W – 54" and 1604W – 64" dye sub printers.   With sellable production speeds up to 65 m²/h, the 1638W will set a new performance benchmark for wide-format dye sub printers in the growing market of soft signage applications".
Vanhoutte highlighted key features of the new machines.
VJ-1638
Targeted at the sign & display market: high volume and high quality production of long-term outdoor posters, signs and banners, backlit signage, POS displays,        vehicle graphics as well as high quality durable prints for indoor use.
Prints directly onto a wide range of uncoated and coated substrates.
Three individually controlled heating elements below the print platen for media pre-heating, ink fixation and drying.
Mutoh Eco Ultra inks, CMYK – 220 + 440 ml cassettes.  Inks do not spread any harmful VOCs in working environment.  No need for forced ventilation.     Inks are UV and water-resistant for up to three years outdoors.
High quality speed up to 20 m2/h (720 x 1080 dpi)
Typical production speed up to 36 m2/h (720 x 720 dpi)
Top speed up to 48 m2/h (360 x 720 dpi)
Key Features VJ-1638W (W=Water)
Targeted at the sublimation transfer market: soft signage and graphics for events, home decoration, flags and pennants, sportswear, in-store banners.
Prints on all typical dye sub transfer papers from 66 g/m² to 150 g/m².
Mutoh highspeed quick dry water-based disperse dye inks, CMYK, 1 and 5 l bottles which give rich, vibrant colours for wash fastness, rubbing and     perspiration. Do not spread any harmful VOCs in the working environment.
Ready for connection to Mutoh's optional bulk ink system.
For heat transfer of dye sub prints from paper to fabric, Mutoh's Unifixer calender can be used.
Production speed range: 10 m2/h – 65 m2/h
Typical production speeds up to 42 m2/h (360 x 720 dpi) / up to 65 m2/h (360 x 360 dpi)
Engineered and manufactured in Japan, the new ValueJet 1638 line will be showcased at all major sign & print industry events throughout Europe, the Middle East and Africa during the next coming weeks and months.  It will be available during May 2012.
For more information on Mutoh and its products, visit www.mutoh.eu
Copyright © 2012, DPNLIVE – All Rights Reserved