Award for Innovation Announced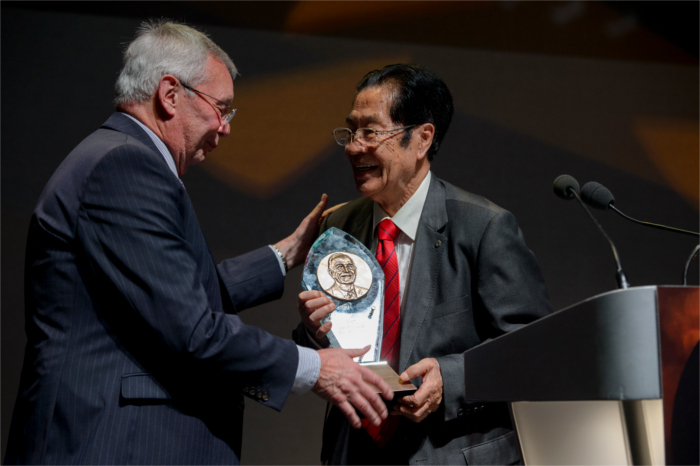 Lifetime Achievement winner
The most innovative, creative and commercially successful work from the label and package printing industry has been rewarded at the Label Industry Global Awards 2017. The people behind the some of the most important innovations introduced over the past 12 months, were presented with their trophies in front of over 500 industry peers at a gala dinner held on 25 September as part of this year's Labelexpo Europe in Brussels.
The sell-out award ceremony included some of the biggest names from the international label community, as those working behind the scenes in this vibrant sector took the limelight in recognition of their hard work. Joining PEIAC's Professor Tan Junqiao who was earlier announced as the winner of the prestigious R. Stanton Avery Lifetime Achievement Award, HERMA, AIM and ebeam Technologies were officially announced as the winners of this year's other categories.
The R. Stanton Avery Lifetime Achievement Award, sponsored by Avery Dennison was given to Professor Tan, the founder and honorary chairman of the China Label Sub Association of the Printing Equipment Industries Association of China (PEIAC). His passion and dedication over many years in serving and promoting the development of a modern label printing industry in China, have led to him being widely acclaimed as true pioneer and founding father of the Chinese label industry. Professor Tan joins fellow distinguished winners including: Tomas Rink of Ritrama, Helmut Schreiner, Nilpeter's Lars Eriksen and Kurt Walker of FINAT.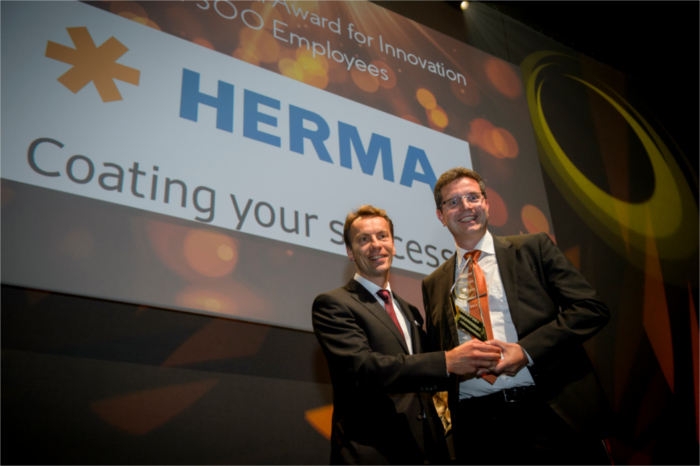 innovation category (more than 300 employees) winner - HERMA The Award for Innovation (for companies with more than 300 employees), sponsored by Flint Group Narrow Web was presented to HERMA GmbH for its superTack (63Vst). The judges singled out the manufacturer of self-adhesive label application systems, saying that product innovation has enabled HERMA to create the world's first resin-free adhesive for labels that requires an extremely strong initial tack, making the adhesive an ideal solution for films, as well as moist, fatty, dirty or dusty surfaces, and extending it beyond the food sector. By dispensing with resin, HERMA's adhesive reaches the approval for dry, moist and fatty foods and comes closer to the zero migration benchmark.
The Award for Innovation (for companies with up to 300 employees), also sponsored by Flint Group Narrow Web went to AIM, the trade association for the automatic identification industry. For nearly half a century, AIM has provided unbiased information, educational resources and standards to providers and users of these technologies. AIM took the accolade for its Ultracode which is a process innovation that enables the automatic capture of data by any digital color camera or smartphone. The process utilizes the first international standard 2D color barcode - Ultracode - which is printable by any RGB or CMYK process color, inkjet or toner technology. The code, together with advanced data compaction schemes and URLs encodes data in less than half the area of a QR code using the same modular size.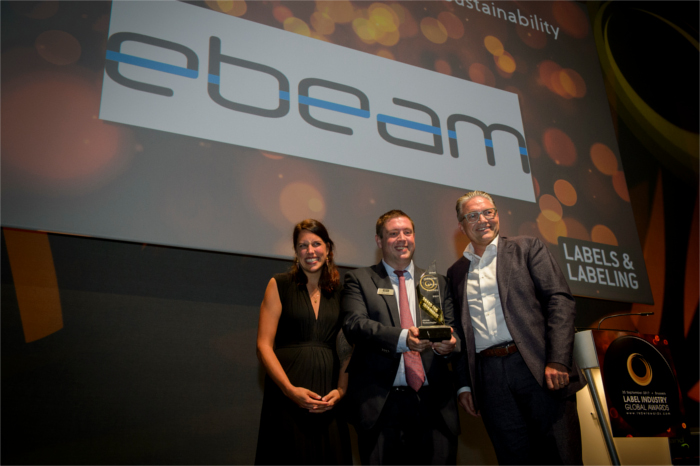 Sustainability category winner - ebeam Technologiesebeam Technologies took the Award for Sustainability, sponsored by Labels & Labeling Magazine for its Compact curing unit. ebeam Technologies designs, manufactures and integrates electron beam (EB) technology solutions. The award was given for the company's development of a compact electron beam curing system for narrow-web presses which now makes low-energy, photo-initiator-free, curing accessible for label and package printing production. Using ½ to 1/10 of the energy required by heat, steam, chemical, microwave or UV processes, ebeam systems are compact, vacuum-sealed, zero maintenance and have high longevity.

Mike Fairley, chair of the judges commented:
"It is through the sheer determination and tenacity of our many colleagues that our industry has continued to push the boundaries of excellence and technology to meet and exceed the challenges that we all face. Our annual awards highlight these companies and individuals and share first class examples of the success that has been achieved in just the past 12 months. I, on behalf of the judging panel, would like to commend and congratulate our finalists and winners and thank them for giving us an excellent showcase of their spirit and commitment to the world of label printing. Their developments and innovations are helping extend the life of our wider industry and I hope their success stories help inspire others to push ahead with our industry's continued development and give us extra drive for improvement in the future."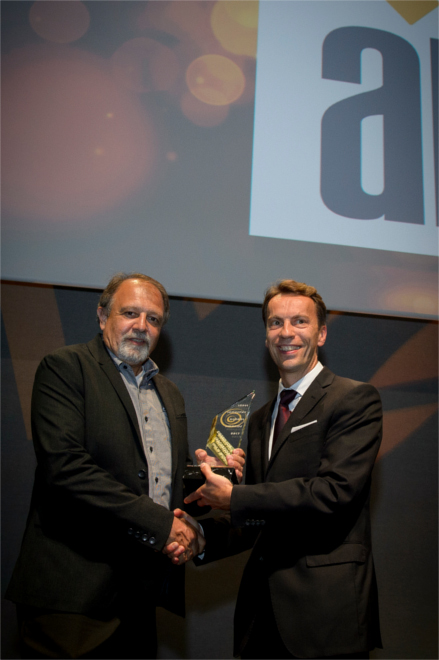 innovation category (under 300 employees) winner - AIMThe judges for the award's 14th edition serving under Mike Fairley as chairman were: Thomas Hagmaier, past-president of FINAT; Craig Moreland, chairman of TLMI; Rosina Obermayer, editor of NarrowWebTech and Andy Thomas, strategic director, Labelexpo.

LabelExpo