Online printing company switches its business, production and web-to-print workflow solutions to EFI.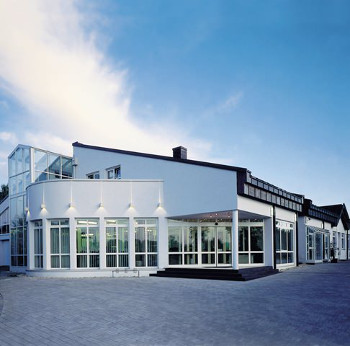 The factory building in Frontenhausen was purchased in 1989 and has been extended regularlyOrtmaier Druck GmbH, based in Frontenhausen, Germany, has chosen EFI™ as its partner to implement an end-to-end workflow solution which will give it full control over the company's entire organisation at any point in time. The integrated solution will allow it to monitor any job from the moment it enters the web-to-print portal to shipment and post-calculation.
The decision was taken following the announcement that Hiflex MIS and web-to-print systems would no longer be supported in the future. Ortmaier Druck announced it had chosen in EFI, a new partner who, with its similar MIS and web-to-print systems, offered a wider range of functions which promises long-term security.
With 170 employees, Ortmaier Druck is a traditional commercial offset printing company that has undergone excellent diversification: it now uses sheetfed presses for commercial printing jobs, web offset for advertising inserts, high-quality digital presses for personalised mailings and small runs, and a 5-colour screen printing carousel for producing textiles and other advertising media. The company also runs an online web-to-print business: flyerpara.de.
"As a company, we are very diversified," explained managing director Stefan Ortmaier, "hence we need production software that can control our entire operation, from estimating to job control and monitoring through to shipping and post-calculation. We can do this with EFI Pace, which we will implement first." The ability to integrate the interactive EFI PrintFlow planning board was especially important in the decision making. "Monitoring the entire production process right from the quotation phase, checking that all materials are available and thus being able to ascertain, monitor and log the cost and production time for a product is an invaluable advantage given our wide range of products," said Ortmaier.
EFI added that equally important was the web-to-print solution, EFI Digital StoreFront® (DSF). Using the browser-based storefront, it said customers can manage their orders or send print requests for standard print products through Ortmaier's website. All communications are logged for the customer and Ortmaier to see. "In addition, DSF allows us to create custom storefronts that customers can use to sell their products," Ortmaier said.
"Perhaps the most important reason for partnering up with EFI was knowing that it offers the most comprehensive end to end business workflow solutions in our industry, and, as the market leader, is at the forefront of development," said Ortmaier. "We need a partner that we can rely on in the long term, along with their products."
Ortmaier found that partner 10 years ago at Drupa whilst looking for an imposition program to help make gang formes for large-format sheetfed offset more easily, more flexibly and faster than with Preps. This he found in the Metrix software, which Ortmaier was the first in Germany to implement, and ever since he has considered imposition templates invaluable. "The news that EFI took over the Metrix Software company in 2013 made us confident that we will be able to continue using our Metrix formes in the future and that EFI will provide seamless integration into EFI Pace. It seems that with our choice of EFI, a lot is coming together, as we can add pieces of the fully automated system as we need them, knowing our investments are protected," concluded Ortmaier.
More information about EFI products is available at www.efi.com
You can Tweet, Like us on Facebook, Share, Google+, Pinit, print and email from the top of this article.
Copyright © 2014, DPNLIVE – All Rights Reserved.