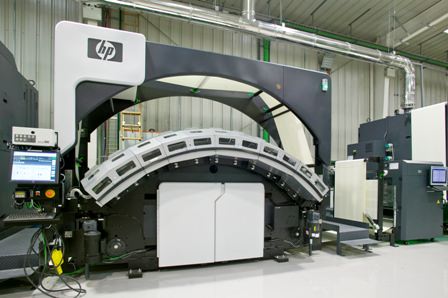 Rodona with Spain's first HP T300 Colour Inkjet Web Press dedicated to print publishingHP's latest news is that Rodona of Pamplona is using its digital printing technology to produce books with Spain's first HP T300 Colour Inkjet Web Press dedicated to print publishing and an HP Indigo press 5500.
Before acquiring the web press, Rodona (a subsidiary of ONA Industria Gráfica) could only print black-and-white books on a rotary offset press. It outsourced all other work.
According to ONA Industria Gráfica's managing director, Alberto Senosiain, Rodona's HP T300 Colour Inkjet Web Press is one of the most productive publishing presses in Europe. "With today's book market demanding smaller print runs and ever more titles, we decided, with our customer, to explore other opportunities and other forms of printing," he said.
Recent technological advances have ushered in new forms of production that facilitate better adaptation to changing market conditions. With the support of its parent company, Rodona has expanded into printing customised or standard books and magazines in black-and-white or colour. It can produce these in small or in gradually increasing print runs with reduced storage requirements.
Using its new digital printing technology firepower Rodona can offer its customers unique solutions. This paradigm shift in the concept of print publishing has now led to a complete overhaul of the company.
"When we embarked on this project, we were looking for companies that could enable us to fulfil our objectives effectively," added Senosiain. "HP fully understood our needs and we quickly formalised our agreement. We wanted a solution that was closest to offset printing, so we installed an HP Indigo press 5500 for covers and an HP T300 Colour Inkjet Web Press for printing interiors in black-and-white or colour. When planning the implementation of our new production model, our initial concern wasn't so much the printing technology involved, but rather the quality and, of course, the end price of the product. We now have little doubt that the future of many printed products lies in inkjet."
It was the market itself that led them to the HP T300 Colour Inkjet Web Press, said Senosiain.  "However, it wasn't just about evaluating the machine, which is not always the most important aspect," he added. "We were looking for a company that was betting big on this technology. In short, we weren't just looking for a supplier – we wanted a technology partner, too. The company that offered us the best all-round conditions was HP, and time has shown that our decision was the right one."
Senosiain said the two presses combined provided the flexibility and capacity needed in a customised, individualised product manufacturing environment with high industrial output.
In addition to using these advanced print technologies, products are finished using the bMuller Martini ookbinding system, arguably one of the most sophisticated of its kind in the world.
Senosiain highlighted other benefits to Rodona's business.
"We can now achieve significant savings on storage costs and have fewer faulty products," he said. "The system has also allowed us to start producing other products that are either not viable or very expensive with conventional technologies, such as customised books on small or very small print runs. This technology is all-embracing. I think the focus will very much be on print-on-demand book sales in the future. But currently, the main niche for this printing technique is clearly short runs."
Copyright © 2011, DPNLIVE – All Rights Reserved