Company unveils €250K investment in new Document Services Centre.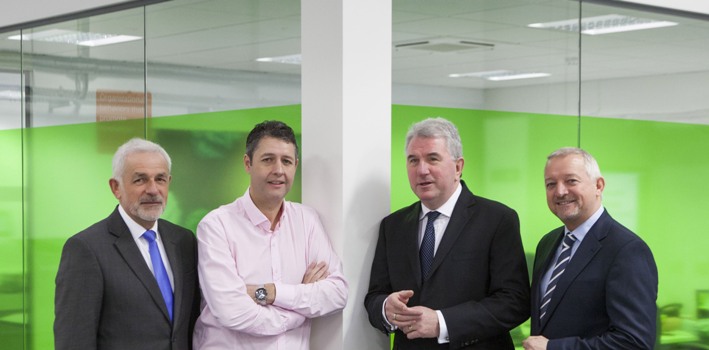 (L-R) Stephen Palmer, managing director, Ricoh Ireland; Gary Owens, manager, Ricoh Ireland Print and Document Services; Phil Keoghan, CEO, Ricoh UK & Ireland; and Gary Hopwood, general manager, Ricoh Ireland
Ricoh Ireland has recently announced details concerning a €250,000 investment it has made in a new 12,000ft² Document Services Centre in Glasnevin, Dublin. The facility has been developed with the intension of helping the company grow its document services revenue by 20 per cent in the next year, primarily by focusing on what it terms 'the customer experience'. It will also boast a suite of innovative new service lines.
Based in Slaney Road, the Document Services Centre is double the size of its predecessor in Dublin's Park West. With a large open plan interior, the centre has a number of key functions such as service innovation, encouraging streamlined workflow and offers customers faster turnaround times, increased capacity and hi-tech new services. As you would imagine, it also features the latest in production print press technology including the Ricoh Pro C7100, which supports an extensive range of media and has the added benefit of a fifth colour station.
The Document Services Centre is billed as offering a snapshot of the future of print and document services by Ricoh.
To set itself apart from competitors, Ricoh, in addition, made a significant investment in a special software replicating and printing area that can handle CDs, DVDs and USBs with offline disc analysis.
Full archive management scanning services are available, a feature which will allow businesses to digitise their documents and data. This is crucially relevant to the global healthcare industry and its push towards digitisation. As the sector embarks on that digital transformation, security and confidentiality are crucial.
The capability to migrate files into high end Electronic Document Management systems, coupled with the Centre's highly secure premises and Ricoh's ISO 27001 certification is seen as a vital component in assuring customers of the highest levels of security and compliance. Ricoh Ireland's well known dedication to quality and the environment, meanwhile, is demonstrated through its ISO 9001 and 14001 certifications, as well as its Business Working Responsibly Mark from Business in the Community Ireland.
Other service lines that will benefit from the new location and increased space include Ricoh's business process services (BPS) offering and direct mail solutions. The centre also acts as a business continuity service for customers who need an overflow facility during busy times.
Ricoh maintains the investment in the Document Services Centre is another example of its continued commitment to its customers through the development of a state-of-the-art Customer Experience Centre. The executive reception immerses customers in the entire Ricoh production experience by allowing them to view Ricoh's cutting-edge technology first-hand before they take a tour of the premises.
Through Ricoh's new range of fully integrated Unified Communications Systems and interactive whiteboard facilities, the Customer Experience Centre allows customers to get involved in the production process and visualise how Ricoh can support other areas of their business, too.
Phil Keoghan, CEO, Ricoh UK and Ireland, said:
"The investment in this new Document Services Centre reflects the increasing role of Ricoh Ireland in the company's global operations, as well as Ricoh's growing commitment to the Irish market. Ricoh Ireland has enjoyed strong growth in recent times and has celebrated a number of notable successes. As we prepare to launch our next three year strategic plan, this facility will underpin and emphasise our increasingly service-led approach. We're also excited to launch our new Irish Customer Experience Centre which will mirror other Ricoh Centres of Excellence around the world. It will provide our customers and partner network with a clear insight into the future of print and document management."
Ricoh Ireland Print and Document Services manager, Gary Owens added:
"At Ricoh we value our customer and are constantly working on new ways in which we can enhance their experience. That is what drove us to develop the new Document Services Centre and Customer Experience Centre.

"The customer is central to everything we do and for that reason we have developed the concept of Ricoh Service Excellence. It is a series of best practice methods that underpins the Ricoh ethos and can be seen in everything we do."
Gary Hopwood, general manager, Ricoh Ireland, commented:
"Today's announcement is in line with Ricoh's global strategy to transform the business into a service-oriented model and we are delighted that Ricoh Ireland will play a vital role in that.

"Through brand new technology, expanded service lines and overflow capacity, the Document Services Centre gives Ricoh Ireland a real competitive edge. Now, we have the facility, technology and expertise to sustain even further growth for managed services delivery both in Ireland and abroad."
For further information, please visit: www.ricoh.ie
You can Tweet, Like us on Facebook, Share, Google+, Pinit, print and email from the top of this article.
Copyright © 2016, DPNLIVE – All Rights Reserved.