Open Your Eyes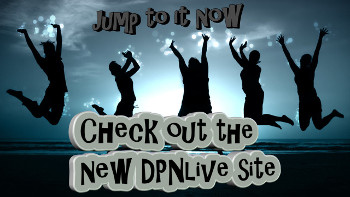 Check ou the new DPNlive siteYou are really welcome to the new DPNlive site.  Let me bring you through it.  The site re-launched on Thursday 28th August.  It's in 'beta mode' (test) now for a number of weeks so there will be some teething problems.When you notice them, please send an email to This email address is being protected from spambots. You need JavaScript enabled to view it. or This email address is being protected from spambots. You need JavaScript enabled to view it. regardless of how trivial the issue is.
The first thing you will notice is the new logo and new name.  When we started out on 5th October 2011, we were called Digital Print News.  Over the years that name was shortened to DPN by our supporters.  And due to the fact that our domain name is DPNlive.com, we called ourselves DPNlive.  To celebrate this change we decided to redesign our logo.  We gave ourselves a new squirrel (designed by Julie Williams) and a new font (News 706BT).  The new name has two shades of the same colour in order to subliminally enhance both halves.  On top of that we have some embossing and shadows.
DPNlive logoFrom here you will notice a total revamp of the site.  I'm not going to go into them all with you here because there are too many, but I will point out the most obvious ones.
·        It's wider – 1410 pixels.  This is due to the fact that most modern computers can accommodate this.
·        It can be viewed in different resolutions on both tablets and phones separately.
·        If you resize your browser, the site will automatically re-present itself to you in the best format.
·        We have brand new software and design.  Our web development was under the supervision of our lead designer, Brian Corrigan.  Brian is a young man with a very strong future in software and web development.  He made this site happen in only ten days, which included the mammoth task of transferring 2500 articles and 6500 images all synched.
·        You will notice that previously our articles were filed in sections and categories.  Now, instead of just two levels, we have nine sub levels of categories.  We are using three.
·        When you hover over the main menu with your mouse, each menu will automatically show with all the categorisations.  This is your main area for finding content. The menu follows you down the page.

·        We've installed a new module immediately below the main menu that shows all recent articles.  We are only showing the graphics in order to create a little bit of curiosity and fun to our readers.
·        Articles are presented to you in brand new formats.
Over the coming months, we have planned new developments, so keep looking.  For example, we are creating new products for our sponsors.  You will notice a new menu item called directories.  This where you will have the largest database of printers and print suppliers in Ireland and the UK, with Europe to follow, complete with a full range of services they offer.  This will be searchable in various formats.  As well as being used by the print industry itself, we plan on this being aimed at print users, from the largest to the smallest.
This is a hugely exciting time for DPNlive live and its stakeholders.  If you have any suggestions, comments or advice to offer, please send them to This email address is being protected from spambots. You need JavaScript enabled to view it. or This email address is being protected from spambots. You need JavaScript enabled to view it..
Have fun exploring the new site.