Company partners up to exhibit at exhibition with Josero.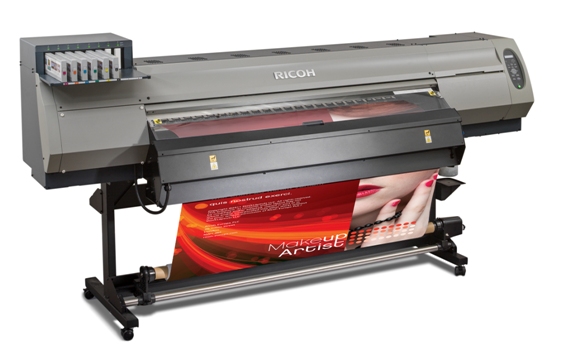 Ricoh Pro L 4100 Ricoh has announced that it will exhibit at Sign & Digital with its partner, Josero. This new strategic approach at Sign & Digital demonstrates Ricoh's commitment to further building its knowledge base to more precisely understand how its products are used, and deepen its expertise in addressing customer needs.
Stephan Palmer, production print director, Ricoh UK and Ireland said: "Our decision to work with our partners forms a key part of our strategy, and has only been enhanced by the desire and enthusiasm Josero has shown for partnering with us at Sign & Digital. Getting close to our current and potential customers is vital if we are to provide them with products and services that are going to make a tangible difference to their bottom line. So by taking our already close partner relationships to the next level like this, we can achieve the reach we need."
Loic Delor, managing director, Josero, added, "We're thrilled to be working with Ricoh. They're a huge name in the production print industry and are known for supporting sign makers. In addition, they form part of the very small group of printer manufacturers that actually own the printhead technology used in their machine. This, for me, is a guarantee of quality, reliability and innovation. We are delighted to help be partnering with Ricoh at Sign & Digital."
Ricoh will demonstrate the Ricoh Pro L4100 latex large format printer series at Sign & Digital via Josero at Stand H40.
Ricoh Pro L4100 series
This latex, roll-to-roll large format printer comes in 130cm (53 inch) or 160cm (63 inch) widths and supports up to seven colours in various configurations. In addition to CMYK, orange, green and white inks are also available. The Ricoh ProTM L4160 and L4130 deliver high print productivity and quality as a result of technological innovations which include the Ricoh piezo electric print heads. Ricoh provides a fast, four hour response time ensuring that businesses do not lose out on revenue due to technical faults. The series also meets the market need for products that reduce environmental impacts printing through its use of aqueous latex ink and ability to operate with low power consumption.

Ricoh Pro C7100 Palmer said: "We exhibited at sign & Digital for the first time last year. Since then we have not only taken on feedback from the market, but also launched other technologies that sign makers can consider in order to diversify their businesses. The Ricoh Pro L4100 series has been through Ricoh's rigorous quality assurance process and is ideally suited for the specialist signage market. We are excited to be able to offer sign makers another solution to support their business growth."
Other Ricoh products, designed to help businesses develop their offerings and grow include the Ricoh ProT C7100 series of digital colour cut sheet presses; and the Ricoh Pro® C5100S, which features Ricoh's enhanced toner transfer technology.
Ricoh Pro C7100
This series of digital colour cut sheet presses is ideal for sign makers as well as small to medium sized graphic arts businesses, direct mailers, service bureaux, digital printers and centralised reprographic departments. Its features are designed to support sign makers seeking to increase their current digital printing capacity, enter new markets and explore new digital opportunities by providing capabilities and offerings to clients not previously available with this engine class.  
The ProT C7100 series makes it easier for print sign makers to offer diverse and unique outputs to their clients and new revenue streams to their business. Highly productive for its class, the series delivers print speeds up to 90ppm, supports media up to 360gsm ad offers optimum image quality up to 1200 x 4800 dpi. A key feature of the ProT C7100 series is its fifth colour station allowing clear gloss or white applications, offering sign makers significant additional revenue opportunities.
Palmer commented: "As sign makers seek to remain competitive, profitable and add value to clients, it is essential that they have the right tools in place to deliver innovative applications and introduce new service lines. By adding a Ricoh Pro C7100 series digital press to their workflows they can boost return on investment, expand or introduce new digital print services, with fast turnaround times and promise exceptional image quality and impact to clients. The ability to apply spot or flood clear gloss and white, and to quickly switch between the two, is unprecedented at this price point."
Ricoh Pro C5100S
The Ricoh Pro C5100S digital colour cut sheet production system is a light production model that is a versatile choice for sign makers. Reaching output speeds up 65ppm it is ideal for the production of on demand prestigious marketing material, collateral or client mailings. The model also features a new toner formulation and broad media handling. In addition, the small footprint makes it ideal where space is limited.
"This addition joins the Ricoh Pro C901 Graphic Arts +, Pro C751 and Pro C651 digital colour production systems, providing a new choice for those seeking a flexible, reliable and affordable solution to generate professional output every time," said Palmer.
With Ricoh's newly developed toner formulation, it has increased its colour gamut by 10 per cent for the Pro C5100S. The toner has also been developed to fuse at a lower temperature, meeting Ricoh's R&D focus to continually reduce the environmental impacts of its products wherever possible. This in turn also ensures a quicker warm up time for increased productivity.
The Pro C5100S was also the first Ricoh digital production printer to feature enhanced toner transfer technology which delivers high quality print results on heavily textured stock - ideal for direct mail and marketing applications around which sign makers can develop new services. Media flexibility is a hallmark of the two new models, with a new fuser assembly which uses information from the media library to optimise the fuser temperature and pressure combination for each substrate. This technology is ideal for printing challenging applications such as envelopes, where the balance of pressure and heat is critical to maintain a flat and perfectly printed product.
Palmer concludes: "Ricoh's support of Josero reflects the partnership approach we are looking to expand in the UK and Ireland in the coming months. At Sign & Digital, we hope to demonstrate to visitors that, by working with partners like Josero, not only will we continue to deliver high quality service and innovation to our customers, but further enhance it."
For further information, please visit www.ricoh.ie
Press release by Comit Communications & Marketing on behalf of Ricoh
You can Tweet, Like us on Facebook, Share, Google+, Pinit, print and email from the top of this article.