Strong Investor interest expected to push the price tag upward.
---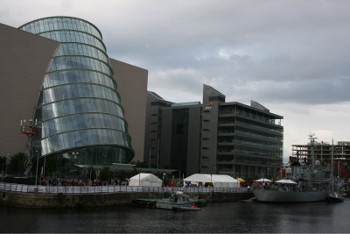 convention centre dublinReports in the Irish media last weekend have suggested that Dublin's Convention Centre could attract a price tag in access of €100m due to strong investor interest from a number of international pension funds.
---
The licence to operate the centre was put up for auction two weeks ago and is expected to attract a number of pension funds looking for a low risk, low return investment. Accountants Grant Thornton were installed as liquidator over the property by its lenders, and have instructed potential buyers that the minimum bid is €80 million. It is believed however, that this will be eclipsed due to the potential strong interest from pension funds.
The liquidators are selling the centres income stream and the licence to operate the business for the next two decades. This will rule out bids from equity funds and property investors who typically seek higher returns in the short term. Additionally, the liquidators are also selling the licence to build and operate an adjacent 330 bedroom hotel.
Convention Centre Dublin was built by Treasury Holdings through a public private partnership with the Irish state. It secured a 25-year management contract, estimated to be worth €250 million, to operate the centre through a company named SDCCD. It is believed that to date, this company has been paid nearly €90 million.
Although it is trading profitably with revenues increasing 25 per cent to €24 million in the year to the end of February 2013, according to its most recent accounts, the decision to sell the licence comes in the wake of news that a number of investors had made unsolicited approaches for the property in the last few months.
Follow us on Twitter - @DigiPrintNews
Like us on Facebook www.facebook.com/DPNLive - (click the 'LIKED' button/top of page as well)
Copyright © 2014, DPNLIVE – All Rights Reserved.