Ireland's only certification for responsible and sustainable business practices.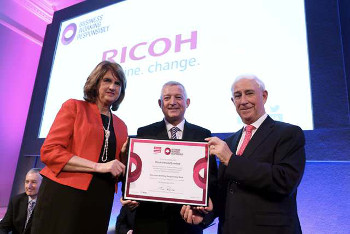 Pictured at the announcement in Dublin Castle - An Tánaiste and Minister for Social Protection Joan Burton, Gary Hopwood, General Manager, Ricoh Ireland and Kieran McGowan, Chairperson, Business in the CommunityRicoh Ireland has been accredited with the Business Working Responsibly Mark for best practice achievements in the areas of corporate responsibility and sustainability. The Mark was awarded by Business in the Community Ireland (BITC) at its eighth annual CEO Forum held in Dublin Castle, 11 November 2014.
Attended by 150 CEOs from Ireland's top companies, the theme and focus of this year's CEO Forum is building trust, reputation and culture in business. Ricoh Ireland, Accenture, Pfizer Healthcare Ireland, Musgrave Group and Mark & Spencer Ireland were recipients of the Business Working Responsibility Mark for the first time.
The Mark is Ireland's first and only independently audited certification for responsible and sustainable business practices based on ISO 26000 and is valid for two years. Ricoh Ireland was accredited with the Mark after an in-depth audit by the National Standards Authority of Ireland.
The Business Working Responsibly Mark is significant for Ricoh on both a local and global level as the company prides itself on being a good corporate citizen and has demonstrated high standards of corporate social responsibility in many key projects. Some recent notable examples include its partnership with ReCreate Ireland to promote sustainability in schools. Ricoh donates and diverts end of line and surplus stock and ReCreate reuses this as arts materials at its Creative Resource Centre in Dublin. Ricoh Ireland is also working with Focus Ireland this year on a number of fund raising initiatives.
Ricoh Ireland also partnered with Focus Ireland's Shine a Light Night initiative earlier this year to increase awareness of the homeless. Gary Hopwood, General Manager of Ricoh Ireland 'slept rough' for one night in Dublin city and raised approximately €5,000 as part of the initiative.
Speaking at the BITC CEO forum, An Tánaiste (Deputy Prime minister) and Minister for Social Protection Joan Burton said: "Ireland has rebuilt its reputation on the international stage, and we need business to support the Government as we show that Ireland is an excellent place to invest and to establish a business. Increasingly, good Corporate Social Responsibility practices are distinguishing the best companies from their competitors."
An Tánaiste added:
"The way that businesses integrate social and environmental concerns into their engagement with customers, suppliers, employees and local communities is becoming hugely important to the sustainability of their business. Having a mix of indigenous and multinational companies achieving the Business Working Responsibly Mark today strengthens Ireland's case for foreign direct investment and sets the standard for other companies already operating here."
Tina Roche, CEO, BITC said: "The need to rebuild trust and reputation and reinforce transparency and accountability after these challenging times is crucial. In the past 14 years, we have witnessed first-hand a real sea change in the attitudes of Irish companies towards trust and reputation, with many companies having responsible and sustainable business practices as the cornerstone of their strategic plans.
"It is inspiring to see so many companies using the Mark as a framework and working hard to embed corporate responsibility at the heart of what they do. These forward-thinking companies understand that customers, employees, investors and regulators place a high premium on trust and ethics."
Gary Hopwood, General Manager at Ricoh Ireland, commented, "We are delighted to be recognised and certified as one of the leaders for corporate responsibility and sustainability in Ireland. This is a fantastic reflection on Ricoh Ireland's CSR credentials and every single member of our team here who worked so hard to achieve this. As an organisation, sustainability is in our DNA. It is part of everything we do. We won't rest on our laurels now that we have achieved this Mark. We have many more exciting initiatives and plans for corporate responsibility and sustainability as we look forward to 2015."
For further information, please visit www.ricoh.ie
You can Tweet, Like us on Facebook, Share, Google+, Pinit, print and email from the top of this article.