Company invests in 'The Beast' and

ads to its Roland arsenal.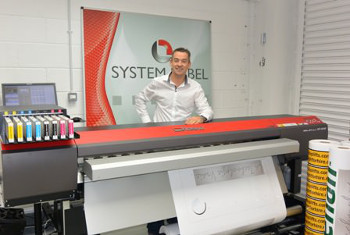 Alan Beirne stands proudly behind his SOLJET PRO4 XF-640 printerIrish based System Label has recently installed a new Roland SOLJET PRO4 XF-640 wide format printer at its headquarters in Roscommon. Founded over 20 years ago in 1992, the company is a leading European label manufacturer with offices and production facilities in Ireland and the UK as well as strategic partners in Germany & Taiwan.
The new machine, supplied by authorised Roland dealer, Neopost Ireland, now joins a growing family of Roland printers at the company, including a SOLJET XC-540 and a VersaCAMM SP-300V printer/cutter. Company director, Alan Beirne commented that it had already gained his respect and admiration.
"The XF-640 has been nicknamed 'The Beast' by Roland itself, and it really is living up to its fearsome moniker here at System Label", he said. "I think of it as more of a genuine high production machine than 'just' a wide format printer. It's a complete workhorse and we couldn't be happier with it. It pretty much runs 24/7, its performance is exceptional and it has already had a major impact on the business and our ability to get our orders out the door and around the world."
System Label produces an extensive range of custom products – from decals and labels for various industrial applications to RFID, printed membranes, QR codes, product IDs and POS for global blue chip customers in the medical, automotive, agricultural and heavy goods sectors. Beirne says all of these sectors have one thing in common: "They all require robust and quality-led production solutions from us. This is what we have built our hard-earned reputation on, so when we decided to add another wide format machine to our arsenal, we had to find one that could offer us the highest performance and total reliability under very demanding conditions. The XF-640 has more than delivered us this; it is a truly outstanding machine."
Roland said the XF-640 is the company's fastest wide format printer to date, incorporating a host of advanced features for high quality, CMYK imaging at a maximum print speed of 102m2/hr. It was designed for both durable and outdoor and indoor applications and is, in Roland's view, the ideal production tool for signs, banners, vehicle wraps, window graphics, POP displays, exhibition show graphics, posters, labels and more. It also incorporates Roland's newest eco-solvent inks, ECO-SOL MAX2 which offers an expanded colour gamut as well as fast drying times to boost production.

neopost Mat Drake, Business Manager – Commercial Print, Roland DG UK commented: "We're naturally very pleased Alan and his team have had such a positive experience with their new XF-640. This machine was designed to consistently deliver in high production, high quality environments like System Label and it's a perfect example of a hard working machine that provides great quality output day after day, especially when under the intense pressures of a busy production house."
Beirne added, "We're screen printers by tradition, but digital has got to a point now where you can print on demand in lower runs cost-effectively without any compromise in quality. Our latest investment in digital technology has given us huge production freedom and flexibility. In addition, when you are in a high pressure industry like this with globally-recognised prestigious clients, you need to also be able to rely on more than just the technology. You need to have supply partners who never let you down if something goes wrong or a machine breaks down. We have always found Roland to be a very active and responsive partner in this regard. In the rare event there are problems, they are on the case immediately to ensure we minimise downtime. It's the whole package and it's why we've remained loyal and keep investing in Roland."
For more information about System Label, call 00353 (0) 90663 0900 or visit www.systemlabel.com.
Those interested in finding out more about how Roland's SOLJET PRO4 XF-640 should call 0044 (0) 845 230 90 60 or go to www.rolanddg.co.uk/XF-640. For more details on Roland's Authorised Dealer Neopost, visit www.neopost.ie or call 00353 (0) 1625 0900.
Follow us on Twitter - @DigiPrintNews
Like us on Facebook www.facebook.com/DPNLive - (click the 'LIKED' button/top of page as well)
Copyright © 2013, DPNLIVE – All Rights Reserved.