First Irish company to achieve Elite Partner Status with Datto.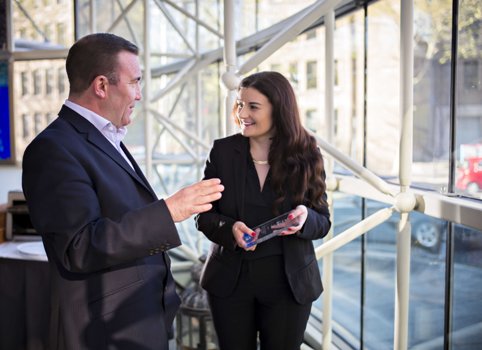 Josh Ayres, sales director, EMEA at Datto with Karen O'Connor, general manager service delivery, Datapac Datapac, one of Ireland's largest indigenous ICT solutions and services provider, has become the first Irish company to achieve Elite Partner Status with Datto, a leading global provider of data backup, recovery and business continuity solutions.
Founded in 2007 and headquartered in Connecticut, US, Datto provides business continuity solutions to more than five million customers and 8,000 partners worldwide.
The Elite Partnership was announced as Datapac forecast that it will double the number of customers using Datto technology in Ireland over the next year. Existing customers include Barretstown, Coillte Panel Products, the Kilkenny and Carlow Education and Training Board, and Respond! Housing Association.
Datapac said that with the exponential growth in data and the number of devices on which it is being created and stored, organisations need to consider backing up their data to a safe environment. It added that Irish businesses are choosing Datapac and Datto's technology to keep their businesses running knowing that their data is being managed and available to them when needed.
The volume of data managed by Datapac using Datto technologies in the Irish market now totals over 33 terabytes (TB), with this number expected to surpass 75TB through new customer acquisition and growth from within the current customer base. Datapac pointed out that to put this in context, 1TB is equal to 8,000 times more data than the human brain retains in a lifetime.
Elite Partner Status means that Datapac can deliver and support the entire suite of products and services offered by Datto, which include Datto SIRIS, Datto ALTO, Datto NAS, and Datto GENISIS. Irish customers will also benefit from 24 x7 support, a hardware insurance policy and competitive pricing as part of this elevated status.

Speaking about the Elite Partner Status, Karen O'Connor, general manager service delivery, Datapac, said: "This achievement highlights Datapac's deep understanding of Datto's technologies and our ability to deploy and support the full range of data backup, recovery and business continuity solutions offered by Datto. We have seen our partnership and collective customer base grow from strength to strength in Ireland and we look forward to working together to continue this growth.
"Businesses in Ireland are finding it more and more difficult to manage increased volumes of data. Partnering with Datto gives us additional competitive edge as we look to grow our market share further for data backup and business continuity services."
Josh Ayres, Sales Director, EMEA at Datto said: "We are delighted to welcome Datapac as one of our select number of Elite Partners globally. Datapac's in-depth expertise and market knowledge have been instrumental in our success to date in Ireland and we're looking forward to strong and sustained growth together."
For further information, visit www.datapac.com
To learn more go to datto.co.uk or datto.com/backupify
You can Tweet, Like us on Facebook, Share, Google+, Pinit, print and email from the top of this article.
Copyright © 2015, DPNLIVE – All Rights Reserved.