Ryanair boss says it could be a reality by 2019.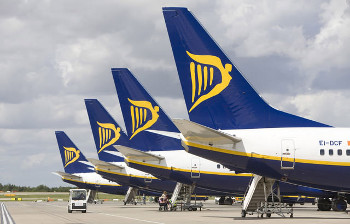 ryanairReports circulating in the European media last weekend have suggested that Ryanair is planning to offer US flights by 2019 and will lure passengers with rock bottom prices.
---
Fares as low as €10 were mooted, excluding additional costs for luggage, food and entertainment.
Michael O'Leary, chief executive of the airline is quoted as saying that the offer was not "a marketing ploy to gain public attention".
One sticking problem at present is the cost of new aircraft which are currently too expensive and out of stock due to high demand from Gulf airlines such as Emirates. In a recent interview with 'The Mail on Sunday' O'Leary added that parts of Ryanair's service needs to overhauled after nearly 20 years of year on year growth.
Like all media reports, this latest statement by the not so bashful airline chief needs to be taken with a pinch of salt. For years now he has consistently said that transatlantic flights were not part of Ryanair's business model.
Then again, Aer Lingus fly's the Atlantic and O'Leary's airline owns a big chunk of it. So maybe we should ease back on the salt for a while and just watch this space!
Follow us on Twitter - @DigiPrintNews
Like us on Facebook www.facebook.com/DPNLive - (click the 'LIKED' button/top of page as well)
Copyright © 2013, DPNLIVE – All Rights Reserved.