€100m available to small firms who

want to improve their energy efficiency.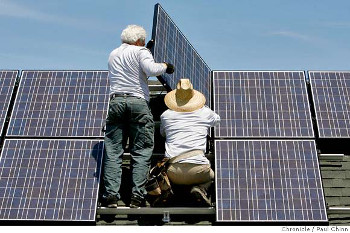 energy upgradeIt's been revealed that Allied Irish Bank (AIB) has just launched a new loans package specifically for small businesses who want to improve their energy efficiency.
The bank said it is making €100m available to small firms for energy upgrades which it maintains could radically help these companies lower their energy costs.
Part of the process of calculating the borrower's ability to repay the loan will be determined by the actual cost savings likely to be achieved by the upgrade.
Funding for this new initiative by AIB is being provided by the European Investment Bank at a discounted rate.
The good news for borrowers is that they will be charged a special rate of 1.2 per cent below the banks standard variable rate.
AIB research found that the average small Irish business pays nearly €114,000 per year on energy bills which makes up nine per cent of all operating costs.
Follow us on Twitter - @DigiPrintNews
Like us on Facebook www.facebook.com/DPNLive - (click the 'LIKED' button/top of page as well)
Copyright © 2013, DPNLIVE – All Rights Reserved.