New solution to provide significant

print savings for Mazars.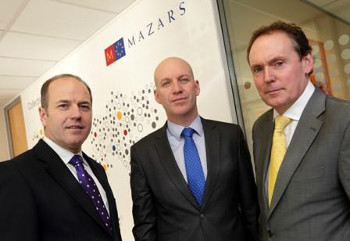 L-R Greg Clarke, Managing Director, Digicom; Trevor McCarron, Director of Finance & IT for Mazars Ireland and Ray Byrne, Channel Manager, Ricoh Ireland Digicom, a leading Irish specialist in print management and a specialist in the areas of audio-visual and document management, has announced the implementation of a new Ricoh managed print service for Mazars. The secure solution is already transforming print and document processes for the company.
The overall value of the deal is estimated at €200K over five years including equipment and managed services. The solution will provide a full return on investment before the lifetime of the contract due to significant cost efficiencies being introduced, including a 25 per cent saving on print costs.
Mazars is one of Irelands leading professional services firms with more than 250 audit, consultancy, corporate finance, financial outsourcing, business restructuring, insolvency and tax employees in its Dublin and Galway offices. It serves a broad client base throughout the country and internationally, including corporate, government and owner-managed businesses.
Due to the nature of its operations, Mazars' employees handle sensitive client information on a daily basis, and its print and document processes obviously are of the utmost importance to ensure full compliance with data protection requirements.
Digicom carried out an extensive audit of Mazars Irish business operations as part of a competitive tender process to determine what print resources it needed. It then implemented a new solution based on a Ricoh MPS, to deliver the best fit and value for money for Mazars. Digicom is also providing remote management of the new print solution, to ensure operational uptime and enable employees to be as productive as possible.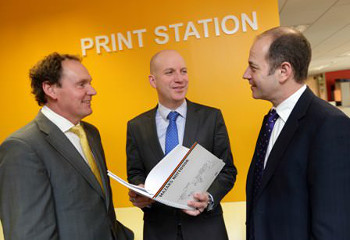 L-R Ray Byrne, Channel Manager, Ricoh Ireland; Trevor McCarron, Director of Finance & IT for Mazars Ireland and Greg Clarke, Managing Director, Digicom Mazars' existing print devices were replaced with Ricoh Multifunction printers (MFPs) which include management software to control and monitor print activity. These Ricoh devices are ensuring the confidentiality of sensitive client data as they have incorporated Follow Me printing functionalities. Employees have to swipe individual proximity cards to release any print jobs at Ricoh devices, ensuring documents can only be printed by those authorised to do so. This ensures privacy for client information. Follow Me printing has also helped to reduce paper wastage by 15 per cent at Mazars.
Trevor McCarron, Director of Finance & IT for Mazars Ireland, said, "This new managed service provides us with a more sustainable, secure and cost-effective solution for all of our printing needs. Its good news for our management team as productivity is enhanced due to the increased uptime of our print fleet. We now really understand the importance of having such an effective managed print service in place from Digicom and Ricoh."
Greg Clarke, Managing Director, Digicom commented, "Mazars now has greater insight and control over how print resources are used. Digicom's print management software monitors user and device activity in real-time to provide detailed reports. Our proactive managed service helps businesses like Mazars to be more productive, efficient and ultimately save money."
Ray Byrne, Channel Manager, Ricoh Ireland added, "Mazars found itself in a situation that is familiar in many Irish businesses with multiple print devices from multiple vendors that are difficult and costly to manage. Utilising Ricoh's secure technology and services, Digicom has delivered much improved print and document management processes for Mazars. It has enabled their IT team to get greater control over the entire print fleet and allows them to concentrate on more value add projects."
Further information can be found at www.digicom.ie

For further information, please visit http://www.ricoh.ie