Print wastage and associated costs will be reduced for customers.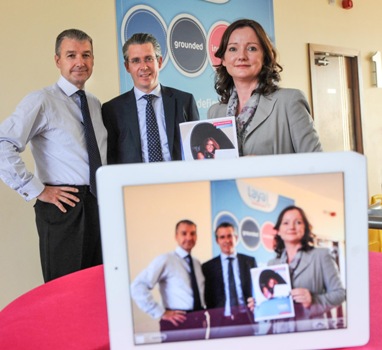 (L-R) Ian Brennan, Director of IT, laya healthcare; Duncan Groom, Managing Director, Neopost Ireland; and Joanne Boyle, Head of Customer Service at laya healthcare.GMC Software Technology (GMC), a leading supplier in customer communications management (CCM) and output management, with its partner Neopost Ireland, has announced that laya healthcare has chosen GMC Inspire to deliver all customer communications.
The agreement has been designed to enhance the customer communication process and will be rolled out in four phases over the coming months. By implementing GMC Inspire, laya healthcare believes this will improve customer experience and reduce the time associated with managing the customer communications process. It will, says the company, also cut print wastage and associated costs while at the same time providing a platform for future growth, scalability and support.
Ian Brennan, Director of IT, laya healthcare, comments:
"Our brand promise is our commitment to look after our members always and we are delighted to work with GMC to ensure we deliver excellent communication and provide the very best that our more than half a million members can expect in the future. The introduction of GMC Inspire will improve efficiency, optimise the communication process to bring more benefits to our members and deliver a consistency across print, digital and mobile channels as the way we communicate with our members evolves."
Mike Davies, Vice President EMEA North, GMC Software Technology, commented:
"Laya healthcare has shown it is committed to delivering the highest level of personalised customer communications and has its sights set on maintaining that commitment into the future. We will be working alongside the team at laya healthcare and our partners Neopost to make sure we build strong foundations that will enhance the customer experience now and into the future on any channel that customers choose."
Duncan Groom, Managing Director, Neopost Ireland, added:
"Laya healthcare is a long established Neopost mailing customer and we're delighted to grow this relationship to include a best-in-class CCM solution like GMC Inspire. It will allow laya healthcare to deliver highly personalised and cost effective communications to their customers, which will ultimately help Ireland's second largest health insurance provider deliver on its brand promise to look after its members always."
GMC Inspire provides the tools to help organisations create and manage complex personalised customer engagement across all channels and devices, whether in print or through digital delivery. The solution is particularly beneficial to the insurance and banking industry as it integrates well with core legacy systems. The new deal will also allow Neopost and GMC to consolidate both companies strong presence in the Irish market working with local companies.
www.gmc.net GMC Software Technology (GMC)
For more information about Neopost, visit: www.neopost.ie.