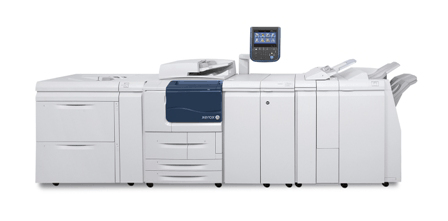 Xerox D95-110-125 CPXerox's have released details of a new series of light production devices – the Xerox D95/D110/D125 Copier/Printer and D110/D125 Printer.
Built to handle the demands of print-intensive environments, the devices are targeted at a number of sectors such as colleges to create curriculum materials, student directories, course packs and bound materials.
Bundled with archiving and stamping software they will allow legal, insurance and healthcare users to store documents electronically and guarantee their authenticity with numerical markings. The new printers are also aimed at the print-for-pay market to improve commercial, quick and franchise, printers tight turnaround times and allow them to offer additional applications and services, like newsletters, on-demand book publishing and customised catalogues.
The copier/printer models are available in speeds of 95, 100, 110 and 125 pages per minute (ppm), while the D110/D125 Printers are available in speeds of 110 and 125 ppm which is suitable for the transactional print environment.
Key customer benefits are:
Fast and easy.
The Xerox copier/printer has a standard single-pass colour scanner,
2400 x 2400 dpi print resolution and prints from and saves to a USB drive.
A built-in scanner scans up to 200 images per minute and manages high-volume, complex jobs with a 250-page automatic document feeder.
Advanced workflow tools.
An integrated controller comes standard with the copier/printer models, allowing powerful workflow with an easy-to-use touch screen. An optional server – the Xerox FreeFlow® Print Server – delivers additional flexibility.
Xerox's Extensible Interface Platform allows users to simplify work processes right from the copier/printer's touch screen interface.
Multipurpose finishing options.
An array of finishing options on the copier/printer provides a professional touch to documents, from booklet making to creasing, stitching and hole punching. Users can easily produce tape-bound, lay-flat and full-bleed booklets with the Xerox Tape Binder, the GBC® e-binder 200 and the Plockmatic Pro30™ Booklet Maker.
"The faster scanner and the simplified graphical user interface should make these new products popular in light production environments where ease of use and affordable productivity are the key," said Jim Hamilton, group director, InfoTrends.
The D95/D110/D125 Copier/Printer will be on the Xerox stand at drupa 2012, May 3rd-16th, Dusseldorf, Germany.
Further information on Xerox at drupa is available here: www.xerox.com/drupa.
Availability
The Xerox D95/D110/D125 Copier/Printer and D110/D125 Printer are available for order through Xerox's direct sales force, resellers and concessionaires from April.
Copyright © 2011, DPNLIVE – All Rights Reserved