Eight new Indigo and PageWide web presses expands HP's commercial printing fleet.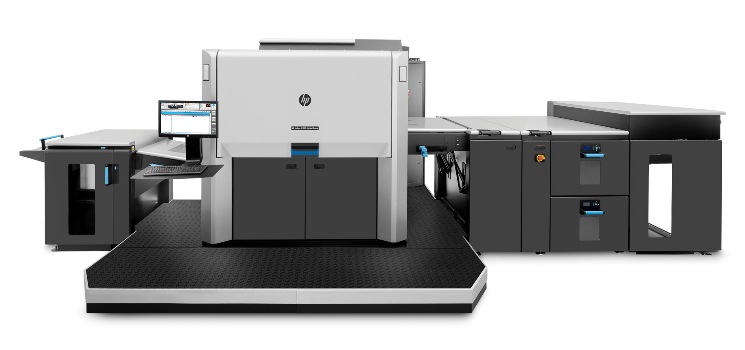 The HP Indigo 12000 Digital Press, part of the new HP Indigo portfolio
HP Inc. has just announced details of a raft of new presses for print service providers (PSPs). They include five HP Indigo digital presses, three HP PageWide Web Presses, as well as cross-platform enhancements in quality, productivity, versatility and colour.
The new HP Indigo portfolio compromises of three sheet-fed presses, the HP Indigo 12000, 7900 and 5900 Digital Presses, the oversize B1-format duplex HP Indigo 50000 Digital Press, the HP Indigo WS6800p Digital Press for photo specialty applications as well as an improved HP Indigo 20000 Digital Press, now equipped for commercial applications.
Expanding the High Definition Nozzle Architecture (HDNA) technology-powered HP PageWide Web Press portfolio, the new HP PageWide Web Presses T490 HD, T490M HD and T240 HD have been designed to provide customers with increased print quality and higher productivity in order to enable PSPs to transfer more high-value commercial print applications from offset to inkjet.
"PSPs need industry-leading digital printing technology to make their creative ideas reality and reach new levels of profitability," said Mike Salfity, general manager and global head, Graphics Solutions Business, HP. "With the new category-defining HP Indigo and PageWide Web Press solutions, PSPs can differentiate themselves with high-quality, one-of-a-kind applications without sacrificing productivity."
New HP Indigo fleet
The new HP Indigo portfolio features cross-platform innovations for PSPs, including:
A new standard in print quality, with integrated hardware, supplies and software innovations, including specialized print quality modes, to increase print sharpness and smoothness. New High Definition Laser Array (HDLA) technology to double print resolution.
Improved colour accuracy and consistency leveraging automated colour management tools, such as an inline spectrophotometer.
New HP Indigo ElectroInks, an expanded media range, including synthetic, metalized, canvas, black and coloured substrates up to 550 micron, and excellent ink adhesion with the on-press HP Indigo ElectroInk Digital Primer. Additionally, HP SmartStream Mosaic 3.0, billed as the next evolution of the hyper-customization software offers new colour-shuffling capabilities, expanding design options.
Customers are able to eliminate up to 50 per cent of pre-press work with HP SmartStream Production Pro 6.0 and increase throughput up to 40 per cent per shift with the HP Indigo Optimizer, which supports non-stop printing with on-press job sequencing and proofing during production. There is also the enhanced HP SmartStream Production Centre to simplify production management.
HP Indigo customers can further enhance productivity with more than 260 solutions from more than 80 workflow and finishing partners, offering end-to-end solutions tailored for a wide range of unique applications.
Enhanced HP PageWide Web Press Quality and Productivity

The new HP PageWide T240 HD provides customers increased print quality and higher productivityAdvancing inkjet printing from niche applications to mainstream commercial print, HP PageWide Web Presses are suitable for an increasing range of high-volume, offset-quality print applications, including colour trade books, journals, retail catalogues, brochures and marketing collateral.
The 42-inch HP PageWide Web Press T490 HD is a digital colour duplex press, delivering up to 1,000 feet per minute (fpm) in performance mode, a 67 per cent speed increase, and 500 fpm in quality mode. Its monochrome variant, the HP PageWide Web Press T490M HD, offers high-volume trade book manufacturers equivalent offset-class digital monochrome productivity. Additionally, the HP PageWide Web Presses T470 HD and T480 HD now offer 500 fpm in quality mode, a 25 per cent increase since introduction.
The new 22-inch HP PageWide Web Press T240 HD prints at speeds up to 500 fpm in performance mode, a 25 per cent speed increase, and 250 fpm in quality mode. With a monthly duty cycle of up to 60 million pages, the T240 HD is designed for commercial, production mail and book printing providers requiring reliable colour performance in a two-up production environment.
"As a high-volume book manufacturer, we're constantly seeking ways to streamline our workflow, improve print quality and turnaround times and anticipate our customers' needs," said Pierre-François Catté, chairman, CPI Group. "The HP PageWide Web Press T480 HD enables us to offer Europe's most discerning book publishing houses even greater digital print quality at faster speeds than previously possible, while reducing waste."
Availability
The new HP Indigo portfolio will begin shipping in the second half of 2016, and new HP Indigo features are expected to be available as optional field upgrades during 2016. New High Definition Laser Array (HDLA) technology for the HP Indigo 12000 Digital Press will be available in 2017. The new HP PageWide Web Presses will be commercially available in 2016. Current duplex colour HP PageWide Web Press customers can upgrade to the new technology in 2016.
All of the new HP Indigo digital presses and HP PageWide Web Presses offer HP PrintOS connectivity to improve print production management. HP PrintOS is expected to be available for customers on May 31, 2016.
New Commercial Print Investment Solutions
HP Financial Services has expanded its portfolio of IT investment solutions to help customers gain faster access to new HP Indigo and HP PageWide Web Press technology, providing ramp-up options for reduced payments in the first six months as well as a predictable monthly payment plan for up to 60 months. This degree of enhanced IT investment flexibility can help customers seize business opportunity and drive greater productivity and efficiency.
HP at drupa
HP will demonstrate the new solutions May 31 - June 10 in Hall 17 at drupa 2016 in Düsseldorf, Germany. It is also showcasing these solutions at Dscoop Tel Aviv and Dscoop San Antonio in April.
This year promises to be the most social drupa yet, with attendees, reporters, industry experts and brands joining in the #drupa2016 conversation. Add your voice to the discussion, and share your analysis of new HP Indigo and PageWide Web Press solutions and their potential for customers by adding the #ReinventPossibilities hashtag.
Visit the HP drupa 2016 online press kit for more information on these announcements and to follow HP's drupa news. More information about the latest HP digital print solutions for general commercial printing is available at www.hp.com/go/graphic-arts. Product videos and updates are available on Facebook, Twitter, YouTube and LinkedIn.
You can Tweet, Like us on Facebook, Share, Google+, Pinit, print and email from the top of this article.