Xerox and Fotoba declare new wide format speed benchmark.
Xerox Cutter ImageA new solution from Xerox and Fotoba is being hailed as providing the industry's fastest production of full-bleed and multi-up posters, banners and signage, at speeds as fast as five seconds per page.
The Fotoba FHS42 Cutter runs in-line with the Xerox Wide Format IJP 2000 designed to increase automation and accelerate delivery speeds. For printers, this could mean opportunities to improve their profitability and to become the go-to shop for quick turnarounds.
The cutter has one horizontal and as many as four vertical trimming blades for 1-, 2-, or 3-up full-bleed finishing. The system reads embedded crop marks on each print to align and continuously adjust its cutting blocks to deliver cuts accurate to 0.04 inches (1 millimetre).
Xerox partnered with Fotoba to customise the cutter to match key specifications of the IJP 2000, including synchronising speeds at 4,520 square feet (420 square metres) per hour and qualifying the same wide range of media. These include matt coated, photo gloss, satin, blueback and backlit/stoplight films, enabling printers to offer their customers a wider range of applications.
Both companies said that in addition to fast turnarounds of finished prints, the cutter's flexible trimming options let shops produce any size job without having to stock multiple roll sizes or make frequent roll changes, saving time and money. A key feature of the cutter is its self-sharpening blades, something which should delight users, as it will minimise maintenance requirements.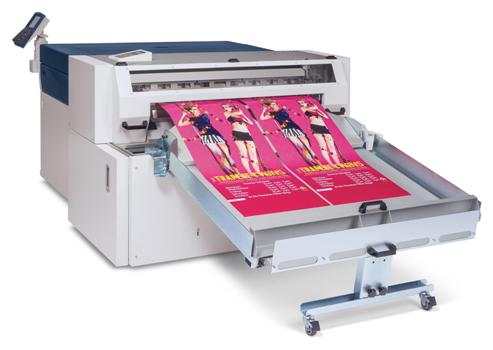 Xerox Cutter ImageThe IJP 2000 and Fotoba FHS42 Cutter will be on display at FESPA 2015 in Cologne, Germany, May 18-21.
Availability
The Fotoba FHS42 Cutter is available worldwide from Xerox wide format resellers as a retrofit or an optional add-on.
You can Tweet, Like us on Facebook, Share, Google+, Pinit, print and email from the top of this article.
Copyright © 2015, DPNLIVE – All Rights Reserved.