Amberley Labels Remains at the forefront of digital Label Production with HP Indigo.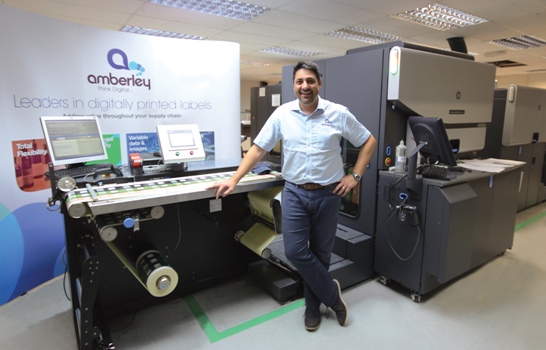 Trevor Smith, Managing Director, Amberley Labels, with the new HP Indigo WS6800 Digital Press
Amberley Labels, one of the UK's premier self-adhesive label producers, has added an HP Indigo WS6800 Digital Press to its already extensive digital production site. The purpose of this latest investment was to further increase the company's productivity and capacity.
Amberley Labels provides high-quality labels for a variety of blue-chip brands, and the company said that the quality and capabilities of the new press will help maintain its competitive edge.
"The new HP Indigo WS6800 has been installed to keep us at the forefront of digital label production," commented Trevor Smith, Managing Director, Amberley Labels. "Our existing HP Indigo WS6600 will also be upgraded to a WS6800 spec very soon. We are printing innovative, high-profile products and HP's cutting-edge technology will enable us to keep pushing boundaries and impressing our customers."

The HP Indigo WS6800 Digital Press is deemed the leading narrow-web printing solution for labels and packaging production, delivering breakthrough productivity, versatility, and intelligent colour automation.
"Amberley Labels has had a great relationship with HP since we installed the first HP Indigo WS4000 press in the UK in 2003. Working with HP, we are always guaranteed superb after-sales and technical support, and this has been an important part of ensuring a long-term partnership," concluded Smith.
http://www.amberley.net/
More information about HP is available at http://www.hp.com.
You can Tweet, Like us on Facebook, Share, Google+, Pinit, print and email from the top of this article.
Copyright © 2015, DPNLIVE – All Rights Reserved.