New 42" wide dye sublimation printer.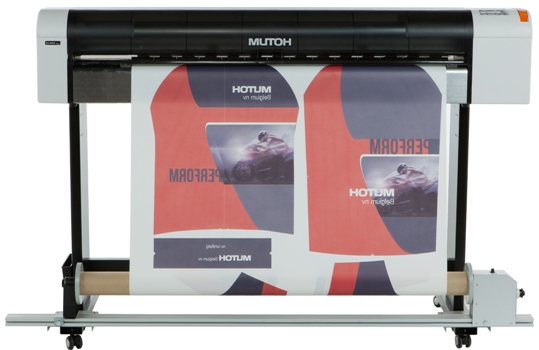 MUTOH RJ-900XG
Mutoh Belgium nv has released details about a new addition to its dye sublimation printer line-up, called DrafStation RJ-900XG. Available immediately, this new 42" (1080 mm) wide CMYK high-quality dye sublimation printer has been designed to fit the needs of start-up and established businesses who want to extend their product portfolio with digital transfer applications.
The new RJ-900XG is able to handle volume production runs as well as short print runs of sublimated graphics: banners, flags, soft signage, interior decoration, sportswear and transfer onto all kinds of objects such as mugs, cups, mouse pads, snowboards and more.
It features a good level of operator comfort and print production efficiency and incorporates a piezo drop-on-demand print head offering print resolutions up to 2880 dpi. The print head is capable of firing drops from 3.4 pl up to 49.5 pl. Mutoh highlighted the fact that the capability to fire larger drops is essential for speedy dye sublimation applications compatible with lower print resolutions.
Typical production speeds range from 5 to 18.5 m2/h and the new 42" wide device will print on standard 95 gsm dye sublimation transfer papers, and additionally, can handle 2" and 3" core rolls. The printer comes with a stand and a non-motorised roll-off system. Mutoh also offers an optional motorised winder system for media rolls up to 30 kg which will roll-up finished prints.
The RJ-900XG uses Mutoh's genuine DS2-series dye sublimation inks which are 100 per cent VOC free and do not require any risk labelling. Available in 1 litre bottles, the inks deliver top scores in wash fastness, rubbing and perspiration. Transfer is possible onto polyester objects, mixed fibre fabrics (minimum 80 per cent polyester) or onto polyester coated objects. Mutoh DS2 inks are Ökotex Standard 100 compliant. They can be loaded into refillable cassettes or into Mutoh's optional bulk ink system offering an ink autonomy of 1.2 litre per colour.
The DrafStation RJ-900XG printer is also compatible with Mutoh's regular water-based dye and pigmented inks for indoor and short term outdoor graphics.
The RJ-900XG is being offered at an attractive price of € 3990, ex works Oostende, Belgium. Mutoh will display the new printer at its booth at the oncoming FESPA show in Cologne, from 18-22 May, Hall 6, Booth T30.
Engineered & manufactured in Japan, the new DrafStation RJ-900XG will be available through Mutoh's extensive network of authorised resellers throughout Europe, the Middle East and Africa.
http://www.mutoh.eu
You can Tweet, Like us on Facebook, Share, Google+, Pinit, print and email from the top of this article.
Copyright © 2015, DPNLIVE – All Rights Reserved.