C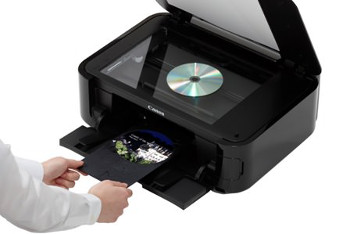 anon Ireland chose the elegant surroundings of The Residence Club, St. Stephens Green in Dublin, to hold its Autumn/Winter showcase event on the 20th September demonstrating the latest Canon printers and camera products available in the lead up to Christmas 2011. Of particular interest for professional photographers was the sleek black PIXMA MFP inkjet desk top range where Canon showed off a number of new models featuring a host of innovative features.
A spokesperson for Canon explained some of these new developments.
"Two models in particular, The PIXMA MG5350 and the PIXMA MG8250 will be of interest to serious amateur and professional photographers," he said. "The PIXMA MG5350 has a built-in CD printer capability and its WIFI enhanced which means that you don't have to link it to your computer. Simply slot in your SD card, go in to the menu system and off you go. It has easy print, copy and scan functionalities, along with access to the new PIXMA Cloud Link."
The PIXMA MG5350 also has full HD Movie Print ability enabling users to capture and print moments as stills from full HD video footage captured on Canon's range of Digital SLRs or Canon Digital Still Cameras. Creative effects can also be applied which include Merge Frames, where multiple images can be combined to give a sense of motion to the printed photos. The printer also incorporates the newly introduced Layout Print which allows movie clips to be selected and a comic-strip effect used to print a storyboard.
"The interesting thing about the PIXMA MG8250 is that you can connect your camera directly into the printer," continued the spokesman. "This device uses six inks, pigment black and individual dye black, magenta, cyan, and yellow but in addition it has a grey ink tank. This additional ink ensures professional quality monochrome prints and the model can produce a 10x15 cm borderless photo in approximately 20 seconds."
As the flagship of the new range the PIXMA MG8250 has a 35 mm film scanner integrated into the top cover of the model to allow for the production of professional quality prints straight from 35mm negatives and mounted slides at up to 4800 x 9600 dpi. The MG8250 also boasts the same innovative features as the MG5350. However it's faster with document print speeds of approximately 12.5ipm mono and 9.3ipm colour (ISO ESAT), producing 10x15cm borderless photo in approximately 20 seconds.
Philip Brady, head of Canon Ireland summed up the showcase event:
"This new range of PIXMA consumer inkjet colour printers will all be available by the beginning of November. Canon Ireland has continued to grow in the MF side of the market unlike the single function side which has declined dramatically. The most recent information would suggest that Canon Ireland is number two in the market for inkjet products and in the consumer end of the business that represents approximately 15% of Canon Irelands turnover. The PIXMA range is now very competitively priced with for example the RSP for the MG8250 coming in at €349 and the MG5350 RSP at €149.00."
www.canon.ie