Billed as delivering outstanding productivity and low running cost.

Roland DG Corporation, a leading manufacturer of wide-format inkjet printers and printer/cutters worldwide, has announced the launch of its premier high volume printer, the SOLJET EJ-640 wide-format inkjet printer.
With dual staggered print heads, an integrated tri-heater system, strong industrial design and high-capacity 1-litre ink cartridges available in 4 or 7 colour configurations, Roland said the EJ-640 is built for optimum performance in a high volume production environment. In a mirrored CMYK ink configuration, the EJ-640 can achieve speeds of up to 102m2/h. The new device utilises specifically designed EJ INK, developed alongside the machine designed to offer end users substantially lower operating costs for high-volume and long-run print jobs. It comes with Roland VersaWorks Dual RIP software which offers customers the ability to process both PDF and PostScript files natively, including files with transparencies.
Yuko Maeda, Division President of Digital Printing Market Development for Roland DG commented,
"Today's sign market is typified by intense competition due to the spread of wide-format inkjet printers and the increasing demand for quick delivery of high quantities with low operating costs. The new EJ-640 addresses these issues by delivering excellent productivity and quality with low ink costs."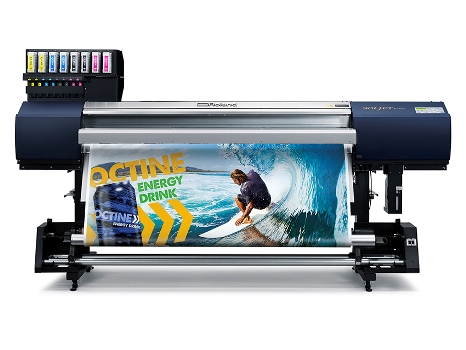 Roland EJ-640Roland emphasized that with a particular focus on high-volume businesses, the specifically designed high strength media shaft holds heavy media rolls securely - and a newly developed Feed Adjuster ensures the smooth progression of media through the printer and onto the take-up system. In addition, the tri-heater dries ink quickly to allow immediate take up, allowing for instant storage if required. In 4-colour CMYK mode, up to two litres of ink can be loaded for each colour for optimum efficiency. In combination with the Roland Ink Switching System, continuous printing is possible without any worry of ink running out. Unattended operation is further facilitated by Roland OnSupport, which sends an e-mail to a smart phone, tablet or computer to notify the machine operator when a job is finished or ink is running low.
"While the EJ-640 is built for exceptional productivity," Maeda added, "the other aspects, for which Roland DG is renowned, such as image quality and reliability, are maintained without compromise." Internal structure has been developed to enable precise ink droplet placement for vivid image quality even at high speeds, whilst the Roland VersaWorks Dual RIP reproduces images with beautifully smooth gradations ideal for high quality print. In addition to dual CMYK, a seven-colour ink configuration consisting of CMYK plus Light Cyan (Lc), Light Magenta (Lm), and Light Black (Lk) is available to enable perfect colour photographs, corporate colours and brand logos.
Maeda concluded,
"Since 1988, Roland DG has supported the growth of the sign industry by employing new digital technologies and providing products that truly make a difference. With the EJ-640, we continue to provide the best solutions to support print business worldwide."
You can Tweet, Like us on Facebook, Share, Google+, Pinit, print and email from the top of this article.