New HP Indigo 10000 installed.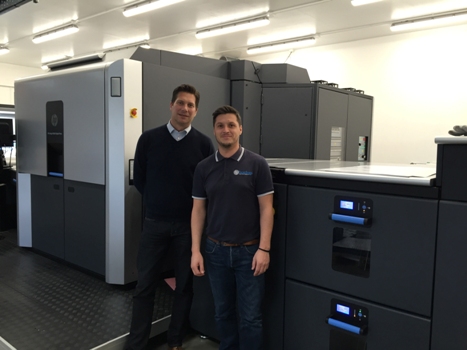 James Jose, Managing Director, and Jamie Gardner, Production Director, Hardings Print Solutions, with the newly installed HP Indigo 10000 Digital PressUK-based marketing services company, Hardings Print Solutions, has invested in a HP Indigo 10000 Digital Press. The installation was made to expand its digital print portfolio, making it the company's second HP Indigo digital print solution.
The new press is expected to further increase production speeds and productivity, while Hardings confirmed it had reached two million impressions on the new device within the first four weeks of installation.
"The addition of the HP Indigo 10000 was an easy decision to make," commented James Jose, Managing Director, Hardings Print Solutions. "Combined with our workflow, web-to-print and asset management systems, the new press has already enabled us to improve efficiencies within the business, which we are then able to deliver to our clients."
The 75cm format HP Indigo 10000 Digital Press is designed to offer offset-matching print quality, enabled by HP Indigo's liquid ElectroInk technology and digital offset process. HP believes the new installation will allow Hardings to maintain unrivalled print quality whilst also responding to increasing customer demand and a growing trend towards customisation and shorter print runs.
"We have seen huge growth across a number of key areas of the business, including a notable increase in variable data and imagery for point of sale prints and direct mail," continued Jose. "The HP Indigo 10000 enables us to offer much improved production times for high quality on-demand small to medium run print jobs, such as fine art books and property brochures. We are confident that the HP Indigo 10000 will prove to be a key asset to the company, allowing us to continue growing our business and delivering outstanding quality prints to our customers."
More information is available at http://www.hp.com.
You can Tweet, Like us on Facebook, Share, Google+, Pinit, print and email from the top of this article.
Copyright © 2015, DPNLIVE – All Rights Reserved.