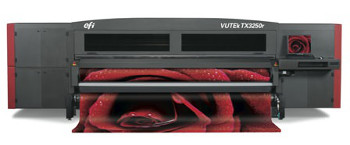 EFI VUTEkR TX3250r fabric printerEFI™, global leader in the manufacture of digital printing solutions, has released details of the commercial availability of the EFI VUTEk® TX3250r fabric printer. This latest machine aims to enable print companies to take advantage of the demands and requirements of the growing soft signage markets. The VUTEk TX3250r printer is a new 3.2-meter, production-level solution that evolved from the first EFI industrial inkjet textile system, the VUTEk FabriVu, introduced in 2002.

EFI™ says that with the ability to print direct to textile and transfer paper, the VUTEk TX3250r is an ideal solution for users wishing to develop their soft signage business with a production-level printer. It also offers users the ability to diversify their offering by converting traditional vinyl signage to a product with lower shipping costs, a greener footprint, easier installation and higher margins.

"The introduction of the TX3250r should help eliminate the soft signage cost barrier for our customers and enable them to capture the market for soft signage, and flags" said Scott Schinlever, senior vice president and general manager of Inkjet Solutions at EFI. "One benefit is the ability to print on textiles, opening new markets for customers while expanding existing capabilities. EFI also focused on exceeding customer expectations for quality and reliability, as we did with the revolutionary FabriVu production quality textile printer that was launched nine years ago."

The VUTEk TX3250r uses dye sublimation technology to dye, or sublimate, fabric fibres directly, so the fabric retains the same drape and soft hand customers prefer. This method achieves brighter colours and, more importantly, the final product is odourless. EFI also points out that the TX3250r enables printing on polyester, a non-PVC material considered more eco-friendly than vinyl. It claims that all final printed images produced on the TX3250r can be washed, dried, folded without leaving marks and re-used.

EFI VUTEk TX3250r features:
New, fast-drying inks for unparalleled speed up to 1800 ft2 / hour (167 m2 / hour);
High-resolution, 8-color print capability for high-margin printed displays and high-density backlit signs;
Fast-4 (CMYK) production speed for high-volume flag and banner jobs;
Direct to textile or indirect via transfer printing process, so users can offer more materials.

For more information on the VUTEk TX3250r soft signage printer and EFI, visit:
www.efi.com
www.facebook.com/EFI.Digital.Print.Technology
www.youtube.com/EFIDigitalPrintTech

Copyright © 2011, DPNLIVE – All Rights Reserved