---
A German company has become Europe's first printing company to install a Jetrion 4900, the UV inkjet digital printing system from EFI. WTO WerbeTechnik Rothstein GmbH believes the press offers an integrated print solution and a high level of efficiency due to its flexibility from printing to finishing for streamlined production runs. A key decision to purchase the press was that it offered a digital solution for small to medium-sized runs, which were previously high-cost, and faster turnaround times for the company.
---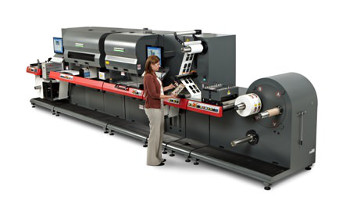 Jetrion4900Günther Hinzel, Legal Executive at WTO said the Jetrion 4900 is opening up new market opportunities for the company. "We can now handle complex, low-volume orders in different versions with no additional work", he said
These new sectors are primarily those where identification tags are required with different types of information.  EFI said the press provides label companies with shorter setup times, lower material consumption and reduced stock-holding which provides an enormous efficiency increase for the companies.
"Doing away with the need for pre-press stages and the option to intervene flexibly in production enables us to shorten our delivery times significantly," Sascha Rothstein, Managing Director at WTO said.
In conjunction with the new investment, WTO has formed a strong partnership with 3M. Its wide range of label substrates is ideally suited for permanent identification applications and resistant to all environmental influences. EFI said both UL (Underwriters' Laboratories safety-testing agency) and cUL (Underwriters' Laboratories of Canada) offer approvals in combination with the new EFI printing machine.
There has been an existing collaboration between WTO and EFI for some years prior to the installation of the Jetrion 4900 said Oliver Luedtke, marketing manager at EFI. "The company is very familiar with our machines and is open to new technical expertise."
Luedtke pointed out that 'the concept of collaboration' also includes a comprehensive service coupled with training courses and rapid support. By installing the Jetrion 4900, WTO has an eye to the future of digital printing and anticipates a substantial increase in repeat orders.
WTO
EFI
MOD
Copyright © 2012, DPNLIVE – All Rights Reserved