Targets home furnishing textiles and indoor soft signage.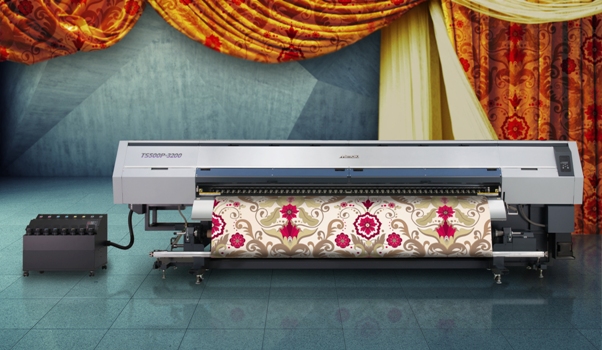 Mimaki's new 3.2m TS500P-3200 transfer paper targets the home furnishings market with its combination of high speed and dye sublimation output Mimaki has confirmed it is to launch the TS500P-3200 super-wide format inkjet printer in February 2016. This is a 3.2-m wide roll-to-roll sublimation inkjet printer and is a dedicated transfer paper printer for the textile industry suitable for a broad range of applications including home furnishing textiles and indoor soft signage.
Custom-made for the growing close-to-home personalisation trend
Exclusively distributed in the UK and Ireland by Hybrid Services Ltd, the company's National Sales Manager – Textile & Apparel, Stephen Woodall said,
"We're seeing the trend for on-demand textile printing develop from the fashion and sportswear markets into the interior décor and home furnishing sector. The benefits of digital print enable companies to deliver variable content in varying run lengths with very short lead times; thus capitalising on the technology."
He continued,
"Personalisation works best when coupled with short lead times for the consumer, so another key factor is having a print operation located geographically close to its market, thus bringing manufacturing back to the UK & Ireland."
The super-wide format TS500P-3200 inkjet printer features a new type of printhead to deliver high-speed printing at 180 m2/h. There are 12 printheads arrayed in three staggered lines that eject ink droplets at high speed to maintain the appropriate ink droplet angle and ensure accurate drop placement with a high head gap. This is designed to ensure high-quality printing results on low-cost thin transfer papers.
Mimaki's Advanced Pass System 4 (MAPS4) anti-banding function is highlighted as smoothing the swath boundaries with reduced numbers of droplets to provide even better printing. Also, the newly designed Auto Media Feeder (AMF) allows stable transfer paper feeding at the high-speed setting in order to maintain print quality.
In addition, the environmentally friendly output does not emit volatile organic compounds after printing and when considering large expanses of display graphics or retail PoS, it helps reduce CO2 emissions during transportation because it is lightweight and foldable.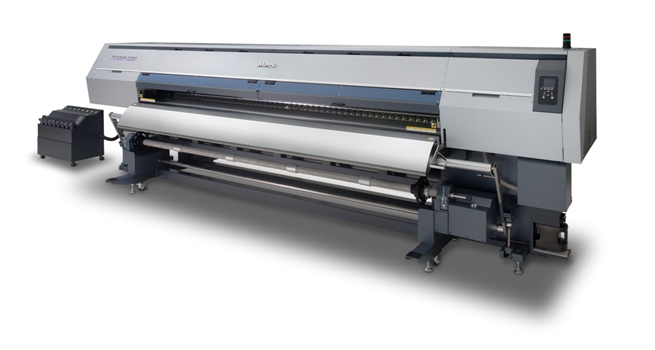 New TS500P-3200 3.2m super-wide transfer paper print from Mimaki to launch in February Mimaki maintain the TS500P-3200 delivers a number of production benefits. Its 3.2m super-wide printable width is practical for sublimation transfer printing on extra-wide fabrics for curtains, bed linen, and other home furnishings and with printing speeds of 180 m2/h is highly productive too.
Its cockling-reduction transfer mechanism supports high-speed production on wide papers and the high performance TxLink3 Lite RIP software allows users to specify the ink volume per colour, and produce large seamless patterns from a single image (including repeat and mirror patterns).
Uninterrupted printing is aided by the Nozzle Check Unit (NCU) that automatically detects and cleans clogged nozzles while the Nozzle Recovery System (NRS) uses only good nozzles as substitutes, when the clogged nozzles are not recovered after cleaning. Large ink containers in the external ink supply unit support continuous printing.
Woodall added,
"The TS500P-3200 should make a real impact in these markets, thanks to its combination of high tech performance and innovative features. As Mimaki's dye sublimation and textile printing line-up continues to expand apace, we're seeing machines that offer solutions for every aspect of the sector."
Dream big and wide says Mimaki
The interior decoration market is undoubtedly a growing one, as Woodall concluded:
"The increase in demand for bespoke and short run interior textiles – be it for furnishings, décor or display graphics – is showing no sign of abating. Mimaki is focused on meeting the requirements of this market and the new TS500P-3200 provides the capability to deliver to an increasingly wide variety of needs."
Full details on Mimaki's textile printer range alongside the full product line-up can be found by visiting www.hybridservices.co.uk.
You can Tweet, Like us on Facebook, Share, Google+, Pinit, print and email from the top of this article.
Copyright © 2016, DPNLIVE – All Rights Reserved.