---
Following the high demand for its Jetrion 4900, EFI has incorporated a new 720 dpi mode to increase the print resolution for labels. In tandem with this, the company is broadening its portfolio of flexor substrates that need no special coating or over laminating.
---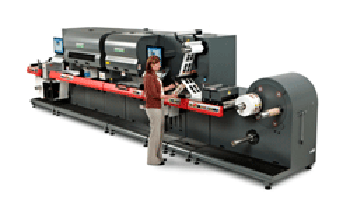 EFI Jetrion 4900 UV inkjet press
The increased print quality utilises new firing modes to drive the single-pass printheads, which EFI says results in enhanced reproduction of text and image details. This new 720 dpi mode is available for its new and existing 4900 customers and the company has also added to its expanding portfolio of substrates. The Jetrion 4830 and 4900 are now compatible with several additional stocks from 3M, Avery Dennison, Flexcon, Raflatac, Ritrama, Spinnaker and Wausau. EFI maintain that label converters will benefit from the increased selections, as well as the low cost of printing UV ink direct-to-substrate.
"Since its introduction, the EFI Jetrion 4900 has proven to be so successful that we have a healthy demand from users around the world wanting to benefit from the surge in variable label content and shorter, more flexible runs," explained Sean Skelly, vice president and general manager of EFI Jetrion. "Offering a higher output resolution option and adding more printable stocks to the machine's capabilities are certain to appeal to all present and future users who want to expand the use of digital printing and benefit from high quality results with the convenience of a fully digital workflow."
EFI also recently disclosed a 93 per cent boost in ink volume for the Jetrion segment alone in Q1 2012, compared with the same quarter last year, showing the strong growth in 4900 customers' digital business. The EFI Jetrion 4900 offers fully integrated narrow-web printing and finishing which the company says simplifies short- and medium-run digitally produced label jobs across a wide range of standard and speciality stocks. Advanced features include high-powered dual lasers for die-cutting, slitting and back-scoring, and CMYK plus highly opaque white UV-curable inks offer durable output which is resistant to heat, cold and chemicals.
For more information on EFI Jetrion, visit www.efi.com
Copyright © 2012, DPNLIVE – All Rights Reserved