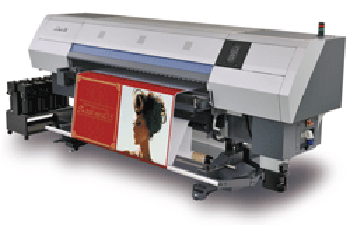 Mimaki-Tx500-1800DSMimaki has added the TX500-1800DS to its stable of textile inkjet printers. The new machine is designed for volume production, capable of printing at 150 m2/hr on pre-treated polyester fabrics.
This printer, together with Mimaki's new Sb300 sublimation ink, delivers enhanced capabilities and productivity to the textile apparel and soft signage markets by eliminating the need to print to transfer papers. It is expected to be available this summer.
"Our TS500-1800SB sublimation printer, announced last month, is the world's fastest dye sublimation printer, capable of printing at 150 m2/hr on transfer paper," said Mike Horsten, marketing manager, Mimaki Europe. "Now with the introduction of the TX500-1800DS, textile apparel and soft signage manufacturer's utilising pre-treated polyester fabrics can print direct-to-fabric at the same speeds without the need for an interim transfer paper step, and can do so without any compromise in quality. The new sublimation ink, whether printing on transfer paper or direct-to-textile, delivers brilliant colours, and using our intuitive RasterLink 6 RIP, operators can easily convert special colours to specific Pantone colours to ensure total colour integrity, printing with up to six colours."
New features of the Mimaki TX500-1800DS include:
Fast direct-to-textile printing at 150m2/h in high-speed mode. The TX500-1800DS uses newly developed printheads that achieve a maximum speed in four-colour mode which Mimaki maintain is 150 per cent faster than conventional models. The printer includes six printheads, in a staggered configuration.
Built-in heater accelerates drying time of printed fabric. This prevents ink set-off in the production process, improving overall quality and productivity while eliminating rework caused by excessive ink set-off.
Mist absorption filter. This filter prevents problems caused by ink mists and enhances the stability of print operations by suctioning the mist inside the printer and discharging it.
Mimaki degassing module. The Mimaki degassing module (MDM-20) eliminates the gases or bubbles that can occur in inks during the printing process, decreasing the likelihood of nozzle blockage and improving the accuracy of ink dot placement. In addition, this module enables the printer to use undegased bottled inks instead of conventional degased ink packs, to reduce ink costs.
New dye sublimation ink. Mimaki has developed a new ink, optimised for dye sublimation printing and for use with the TS500-1800SB and the TX500-1800DS. The company says the Sb300 ink offers an affordable price, dries quickly and produces brilliant colours. Two ink configurations can be selected at the time of printer installation: the 6-colour mode for smooth gradation and better pale colours, or the 4-colour mode for higher productivity.
Auto media feeder (AMF). Mimaki's exclusive auto media feeder provides stable feed take-up of polyester fabrics, eliminating much of the need for operator intervention during printing.
Larger roll media size. The TX500-1800DS can accept rolls of fabric up to 60kg and 300mm in diameter to improve operator productivity by eliminating the need for frequent media changes. Larger orders can be continuously printed without interruption, or batches of smaller orders using the same fabric can be easily handled. In addition, roll shaft handles make installation of heavy rolls of fabric easier.
Standard user-friendly RIP "RasterLink 6". The RasterLink6 can be handled intuitively and without difficulty. Print and other conditions can easily be set, as the display screen is switched on in the same window and the printing progress can be monitored on the main screen. The colour replacement function enhances the ability to recreate printed images, as selected colours from the colour charts of RasterLink 6 can be added into swatches of Illustrator. The colour matching system matches the measured colour to an almost identical colour from the colour profile of RasterLink 6. A colorimeter is not a standard feature. There is also a printing colour simulation function, allowing users to simulate printing colours on Illustrator/Photoshop without actually printing it. This latest function requires MPM2 (Mimaki Profile Master 2).
Duncan Jefferies, marketing manager, Hybrid Services (Mimaki's exclusive UK and Irish distributor) says:  "We're again seeing Mimaki pioneering specialist areas of the printing industry and the TX500-1800DS looks set to deliver phenomenal production capability for customers printing direct to polyester cloth."
Further information on Mimaki's complete range of products, which include textile, latex, UV and outdoor durable printers, inks and software, can be found by visiting www.hybridservices.co.uk. Hybrid will be showing products from the Mimaki textile printer range at this month's Sign + Digital UK exhibition, including the superwide JV5-320DS and hosting the launch of the TS34-1800A.
Copyright © 2012, DPNLIVE – All Rights Reserved