Investment made to add new applications to its product portfolio.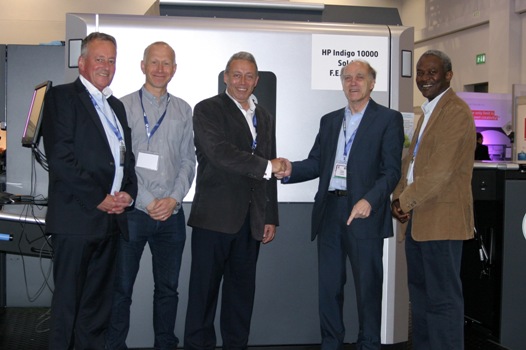 Michael Burman, Managing Director, F.E. Burman confirms the sale of the HP Indigo 10000 Digital Press at the Dscoop EMEA conference 2015
UK based, F.E. Burman, a specialist in print, communication and new-media services, has installed an HP Indigo 10000 Digital Press. It was purchased at the recent Dscoop EMEA conference held in Dublin, Ireland, and installed the following week. The machine is a B2-size (75cm) press and represents the company's third HP Indigo solution. HP said it is expected to generate new business and application possibilities for F.E. Burman's extensive customer base.
"It has been just over 20 years since we installed our first HP Indigo press," explained Michael Burman, Managing Director, F.E. Burman. "We have built strong, long-term relationships with our customers and they have come to expect bespoke, high-quality communications products. HP Indigo technology provides the flexibility and quality for us to be able to meet these expectations. It also allows us to keep pushing the envelope and providing our customers with innovative new products that meet their current market challenges. This is what the HP Indigo 10000 will do, creating new revenue streams and application opportunities."
While the format size, productivity and output quality provided by the HP Indigo 10000 Digital Press makes it an easy fit alongside offset print technology, F.E. Burman does not envisage using the press for traditional offset jobs. Instead it will facilitate the creation of a new, digitally printed product range that will complement its current offering.
In addition to F.E. Burman's state-of-the-art production facility, the company's premises feature a state of the art showroom where customers can browse both paper and product samples.
"The concept behind the showroom is to assist our customers in deciding what they want by looking at what is achievable with our technology. We need to support our customers and help them understand that solutions like the HP Indigo 10000 can push creative boundaries in the communications sector. Having begun explaining to our customers some of the products that the HP Indigo 10000 can produce, we've received a hugely positive reaction and are confident that the press will enable us to broaden our range of innovative solutions," concluded Burman.
http://www.feburman.co.uk/
http://www.hp.com
You can Tweet, Like us on Facebook, Share, Google+, Pinit, print and email from the top of this article.
Copyright © 2015, DPNLIVE – All Rights Reserved.