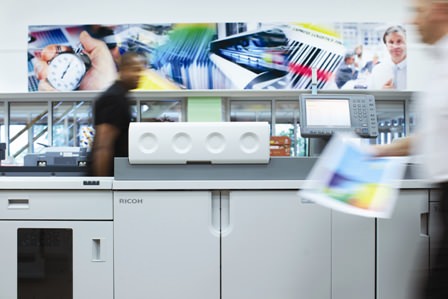 Ricoh Pro C901 Graphic Arts Edition production pressRicoh Europe PLC's flagship colour production press, the Pro C901 Graphic Arts Edition, has been named by InfoTrends as the leading press, by units sold in 2011, in the 301K to 999K duty cycle segment. According to InfoTrends, the leading worldwide market research and strategic consulting firm for the digital imaging and document solutions industry, the Pro C901, with a market share of more than 31 per cent, was almost 9 per cent ahead of its nearest competitor.
At the same time the Western Europe Production Printing and Copying Market Placements: 2008-2011 report also identified the press, which has a rated speed of 90 A4 pages per minute, as the fastest in this class.
And to top it off, Buyers Laboratory LLC (BLI) announced that the press has won its PRO Award for the mid-production colour category. BLI, one of the world's leading independent evaluators of document imaging hardware and software, chose the Ricoh Pro C901 based on an in-depth review of a comprehensive set of technical criteria.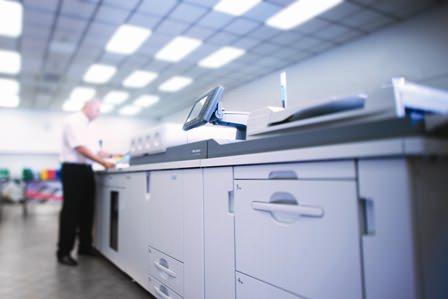 Ricoh Pro C901 Graphic Arts Edition production pressPeter Williams, Executive Vice President, Head of Production Printing, Ricoh Europe said: "The independent industry recognition acknowledges the expertise of our research and development teams in creating highly effective market-leading solutions. The BLI accolade recognises the innovative technologies incorporated into the press. With the quality of the print produced and its flexibility to print a wide range of applications, the Pro C901 series supports print service providers seeking to build a highly responsive and creative portfolio of services."
Williams added, "The InfoTrends rating for 2011 is a fantastic recognition of how the commercial and corporate production printing market in Western Europe has embraced a press we believe to be instrumental in helping printers increase profitability and address new business opportunities. These innovations include its chemical PxP(tm) toner that delivers offset-like results with excellent accuracy, as well as its ease-of-use, reliability and flexibility. The ability to auto duplex 300gsm stock at its full rated speed of 90ppm, creates a market leading level of productivity."
The Ricoh Pro C901 will be demonstrated at the Ricoh stand at drupa 2012, in Hall 8a.
For further information visit www.ricoh-europe.com/drupa2012
Copyright © 2012, DPNLIVE – All Rights Reserved