Investment made to enhance production output.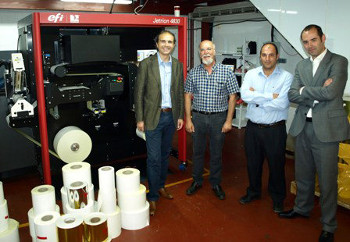 Etiex Chooses EFI Jetrion 4830 EFI™ announced that label manufacturer, Etiex, located in Badajoz, Spain selected a Jetrion® 4830 to expand capabilities and develop new markets.. The company has a team of 17 and produces labels for a variety of industries, particularly centred on food, wine and agriculture.
Etiex, with the guidance of graphic arts dealer, Impryma, researched the market for a system that would increase productivity while delivering higher quality. In the end they decided to choose the EFI Jetrion 4830 with its opaque white ink. According to general manager Jose Manuel Leyton, the machines simplicity, printing quality, features, versatility and ease of maintenance is what attracted them to the Jetrion. The system has allowed Etiex to increase its business from a wider variety of industries, due in part to the ability to work with a broad spectrum of substrates.
Leyton said:
"In addition, higher quality output and the ability to offer value-added services have given Etiex a competitive advantage."
The Jetrion 4830 UV digital inkjet printer accommodates web widths of up to 229 mm and prints up to 210 mm wide at speeds of up to 35 metres per minute. Its drop-on-demand (DOD) print heads offer greyscale quality. EFI commented also that it delivers print resolutions of up to 1080 dpi for near photographic quality and that unlike competitive systems; Jetrion offers ink-only printing cost.
"We are impressed with the simplicity and ease of maintenance, the speed and print quality and the reliability of the system," added Leyton. "The Jetrion UV inkjet system has allowed us to achieve higher profits immediately-very important in these tough economic times. We hope to add more machines in the future so we can continue to expand our reach and satisfy client needs."
Copyright © 2012, DPNLIVE – All Rights Reserved