New Océ ColorWave printers from Canon will make UK debut at Sign & Digital.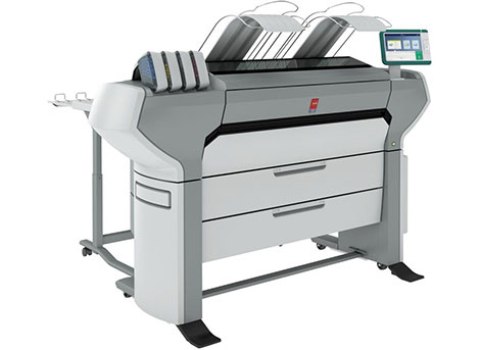 Oce-Canon ColorWave 700Canon has launched two new high performance wide format colour systems which will make their UK debut at Sign & Digital in March. The two new models come as both printer only and multi-functional; the Océ ColorWave 500 dedicated to workgroups and the Océ ColorWave 700, designed for wider graphic arts applications.
Both printers are designed to enable a wide range of high quality applications, supporting print service providers, in-house or remote work-groups and central print rooms with a requirement for instant dry and water resistant prints on roll-based media. The printers are bundled with the latest version of Océ CrystalPoint technology for high speed toner printing which Canon said gives excellent adhesion to standard and specialty substrates, and a higher print quality and clean refilling.
The Océ ColorWave 500 is designed to support CAD, GIS and production applications in the manufacturing, architecture, construction, design and reprographics industries. The system comes with secure cloud connectivity and Windows 8 embedded controller, features which should make the system attractive for government and corporate environments with multiple users. There is also an option for removable dual hard drives, for added data security.
The Océ ColorWave 700 has been developed for businesses requiring a higher print volume, including reprographics, sign and display print providers, and in-house printing applications in industries such as retail, hospitality, POS, education and government. Canon pointed out that it has unique features which make it a very capable all-rounder graphic arts device which puts innovation at the heart of the business. It has enhanced media handling capabilities with an optimisation process for custom media. The system supports media up to 0.8 mm of thickness that makes it suitable for a large range of graphics applications including canvas, wallpaper and banner printing.
Both printers feature cloud integration, multiple user support, secure workflow, optional built-in scanner and a range of integrated output options. Up to six different rolls of media can be loaded at one time, making the printers able to handle many different jobs without having to load and unload rolls in-between. Dual hard drives and fast processors speed up file processing, and automatic media sensing and imaging device maintenance increase print quality and reduce the need for servicing.
"Canon has designed the Océ ColorWave 500 and 700 with successful business workflows in mind," said Yuichi Miyano, Director, Wide Format Printing Group, Canon Europe. "Both printers are built on a philosophy of the highest possible productivity in the smallest possible footprint, so they can produce an exceptional range of creative applications with minimal user training and in almost any business environment. Our customers already use ColorWave printers as central workstations for their business, from printing full colour technical drawings and illustrations to large scale poster campaigns. The Océ ColorWave 500 and Océ ColorWave 700 expand on this huge success, adding even more potential applications such as personalised wallpaper printing."
"Versatility is the key to these new products, both in terms of application possibilities and the wide range of substrates that can be printed on," added Duncan Smith, Wide Format Printing Group Director, Canon UK. "Advances in Océ CrystalPoint technology are enabling the ColorWave range to become even more flexible to the needs of diverse industry-specific demands, and we look forward to introducing the new models to visitors at Sign & Digital where we can demonstrate the true breadth of their capabilities."
Both the Océ ColorWave 500 and Océ ColorWave 700 are available to order from the end of February 2015.
http://www.canon.co.uk/
You can Tweet, Like us on Facebook, Share, Google+, Pinit, print and email from the top of this article.
Copyright © 2015, DPNLIVE – All Rights Reserved.