Chromatic red ink added to new DesignJet Z-series printers.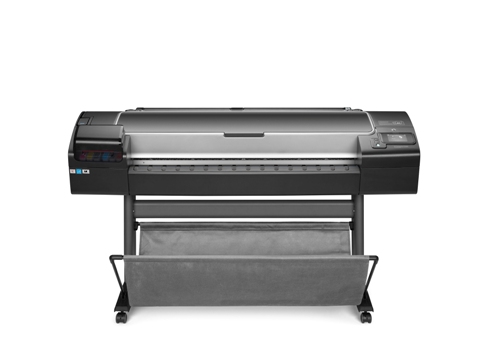 The new HP DesignJet Z5600HP has expanded its HP DesignJet Z-series of graphics printers with a 44-inch multi-roll printer and the company's most affordable 24-inch graphics printer, both of which offer HP's new chromatic red ink.
The HP DesignJet Z5600 and Z2600 PostScript Printers, specifically designed for copy shops, retailers, corporations and GIS departments, come with a six-ink printing system which HP claims will help users cut costs by reducing ink consumption up to 20 per cent, while still ensuring crisp colours. To enhance the colour gamut, HP has added chromatic red ink to make the printers perfect for high-impact point of purchase (POP) signs and posters.
"Our customers want colours that are vibrant, not muted; however they also need solutions that increase the colour gamut without excess inks," said Xavier Garcia, general manager, Large-Format Sign and Display Division, HP Inc. "With today's new printers, the HP DesignJet portfolio covers all graphic needs, from high-impact graphics to photo quality applications, enabling  users to differentiate from the competition."
The new printers are aimed at producing a diverse range of applications efficiently and with the highest quality standards, from eye-catching signs and posters to durable maps and technical drawings. To ensure greater line accuracy and colour reliability, HP Professional PANTONE® colour emulation is included with Adobe® PostScript®/PDF, HP-GL/2. And smooth colour tones are achieved thanks to HP Multi-Dimensional Smart Drop Placement Technology, which provides increased levels of colour accuracy and reliable operation of the printer.
The new Z2600 PostScript Printer "The HP DesignJet Z5600 opens exciting possibilities for our clients with the vibrant red that differentiates our graphics and technical drawings from competitors," commented Wilson Rodriquez, Speedi Pack. "In addition, with its impressive, straightforward operation and dual-roll, we spend more time serving customers than operating the printer."
The 44-inch, automatic multi-roll HP DesignJet Z5600 PostScript Printer boosts media loading efficiency up to 75 per cent and users can print up to 39 per cent faster with quick-drying HP inks. For creating high-impact graphics, the pigment-based HP Vivid Photo inks are water and fade-resistant for maps and technical drawings that can last up to 200 years.
HP's most affordable 24-inch graphics printer, the new HP DesignJet Z2600 PostScript Printer can save up to 20 per cent ink consumption using HP's optimized six-ink printing system. HP said that due to its simple, intuitive operation, no training is needed to use this compact printer. Additionally, HP Vivid Photo Inks, including chromatic red ink, deliver high-impact images that have been developed to leave a lasting impression.
Both new HP DesignJet Z-series printers include new HP DesignJet Click printing software to optimize time and simplify printing by enabling radically simple, one-click printing for all PDF, JPEG, TIFF, and HP-GL/2 files from a PC or Mac to the HP DesignJet Z-series printers. The software helps cut media costs with features like nesting and file error warnings, and users can now be more productive with real-time previews, along with driverless and multipage/multi-file PDF printing of posters, roll-up banners, CAD drawings, maps, and info-graphic presentations.
With more than 3 million HP DesignJets installed around the world, it's easy to forget that that this printing revolution began 25 years ago with HP reinventing large-format design to launch the first inkjet large-format printer in 1991.
Availability
HP DesignJet Z5600 and Z2600 Postscript Printers are expected to be available in mid-June 2016.
Join HP to learn more about the HP DesignJet portfolio at drupa in Dusseldorf, Germany May 31-June 10, at Hexagon in Anaheim, Calif., U.S., June 13-16, and at Esri in San Diego, Calif., U.S, June 27-July 1.
More information about the new HP DesignJet Z-series printers is available at www.hp.com/go/DesignJet. 
www.youtube.com/hpgraphicarts.
You can Tweet, Like us on Facebook, Share, Google+, Pinit, print and email from the top of this article.