Two companies showcase best-in-class output for digital textile printing.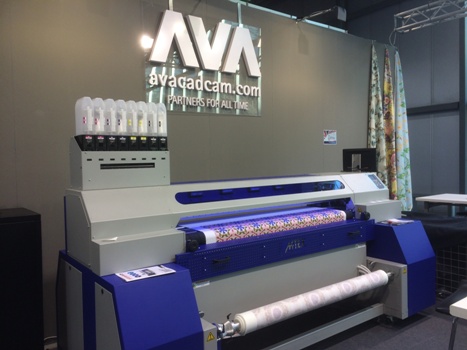 World-wide textile software specialists AVA CAD CAM showing their Digital Print Design & Colour Solutions working with the MTEX Blue pigment printers at Heimtextil 2016Digital textile print solutions manufacturer MTEX joined forces with textile software specialists AVA CAD CAM at Heimtextil 2016 to show their respective MTEX Blue Pigment printers and AVA's Digital Print Design & Colour Solutions Software working together, Frankfurt, Germany, 12-15 January Hall 4, Level 0, Booth D10 .
MTEX CEO Eloi Ferreira said:
"We were delighted to be working with AVA CAD CAM once again. By combining the all-in-one, affordable nature of the MTEX Blue Pigment printer with AVA's powerful software and RIP, colour management and control is finally and firmly back where it belongs - in the textile print studio.
"Together we can deliver commercially viable, digital textile solutions for customers across the board, and our joint showcase at Heimtextil offered visitors an excellent insight into the vibrancy and accuracy of the colours achievable through MTEX pigment inks and AVA's colour management."
The MTEX Blue is positioned firmly in the digital textile pigment printing sector but can also be used as an accurate proofing device for industrial textile printing and is billed as 'unique for its price : performance value proposition'. As a Mimaki worldwide OEM partner, MTEX has developed a whole line of digital textile printing systems at their European manufacturing plant in Portugal.
Heat fixation is an essential part of the pigment printing process, that either needs to be brought in-house with additional machinery, or outsourced, which, as MTEX points out, takes time and money and results in loss of control of the final output and colour accuracy.
MTEX's engineers have developed a patented inline heat polymerisation system that 'fixes' the printed pigment dyes to the fabric inline. Traditionally this has been a two-part process and is now, through MTEX technology, a one-pass process.
The claim by MTEX is that by bringing both processes together, MTEX have answered a problem that has faced the industry for many years in an all-in-one affordable digital pigment printing solution.
AVA specialises in the management of design and colour from initial conception through to digitally or conventionally printed final production for the fashion and decorative printing industries. With roots in the textile industry, AVA's software provides the ideal front-end design and colouring prior to accurate, colour controlled, digital printing for sampling or production. AVA's software empowers designers to create innovative designs for textiles and décor as well as colour separations, colourways, mapping and accurate proofing for either digital or analogue printing.
Duncan Ross, Director at AVA CAD CAM commented,
"We were delighted to be partnering with MTEX again following our recent collaboration together at ITMA. Software is an integral part of defining the quality of output and by showcasing the MTEX Blue with Pigment ink at Heimtextil, we were able to demonstrate to visitors exactly what is achievable in digital textile print today, in an all-in-one solution."
For more information on MTEX visit www.mtex.eu.
For more information on AVA CAD CAM visit www.avacadcam.com