Company's range of direct-to-textile digital print solutions attracts wide spectrum of customers at exhibition.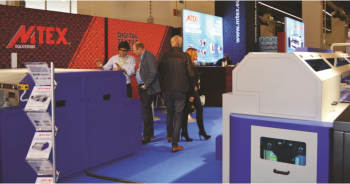 The MTEX Solutions stand proved popular at Heimtextil 2015 The new range of direct-to-textile print and treatment machines from MTEX Solutions has been deemed a success by the company, adding that it attracted interest from both traditional textile companies and new-entry innovators at Heimtextil 2015 this month.
Eloi Ferreira, CEO of MTEX said: "While our flagship 5032Pro -a second-generation version of the MTEX 5032 3.2m wide textile printer- drew a crowd every day, our new Vision printer and the PAD pre-coating machine also proved very popular.
"The Vision went down well with potential customers in the apparel and interiors markets, particularly thanks to its ability to print directly onto stretch fabrics using the dye sub option.
"It's designed as an alternative production method to transfer printing, and has created a lot of excitement.
"We also had a lot of interest in the PAD coating machine from traditional textile companies interested in coating their own medias."
The 1.85m MTEX Vision has been designed to offer direct printing onto stretch fabrics with vibrant colours, and deep dense blacks. There's no paper involved, with print and fix as one process. The Ricoh Gen 5 print heads print up to 1200 dpi and there are 4 colour and 8 colour options. The Vision is available now with direct disperse inks for polyester and later on with pigment ink set for poly cotton/natural fibre fabrics.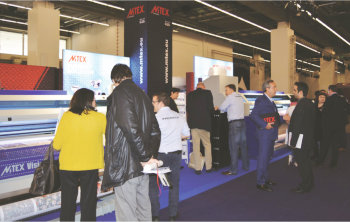 The complete turnkey solutions including the new MTEX Vision drew a crowd at Heimtextil 2015 The MTEX PAD on the other hand was developed to pre-treat and coat materials with production speeds of between 30 and 140 linear metres per hour. There are two coating options of immersion (or foulard), or a surface coating, and the infrared drying system delivers fully dried fabrics.
It can be used in-line with the MTEX 500, MTEX Vision and MTEX Turbo 1.8m wide printers, effectively allowing users to coat their own medias prior to printing.
"The direct-to-textile market is already showing strong growth, and we believe that it will really take off in 2015," added Eloi.
"With MTEX's high manufacturing standards coupled with competitive pricing, we believe we've now developed a range that will support both traditional companies wanting to modernise their processes and those entrepreneurs buying an entry level printer to join this exciting, expanding market.
"There is a new integrated platform on this PRO model as well as a new feeding and take up system, which uses compressed air. There is also a new continuous ink feeding system."
www.mtex.eu.
To see other articles on MTEX please go to http://www.dpnlive.com/index.php/component/search/?searchword=MTEX%20Solutions&ordering=newest&searchphrase=exact&limit=20&areas%5B0%5D=content
You can Tweet, Like us on Facebook, Share, Google+, Pinit, print and email from the top of this article.
Copyright © 2015, DPNLIVE – All Rights Reserved.