Halls 17 & 18 at the NEC, Birmingham, UK.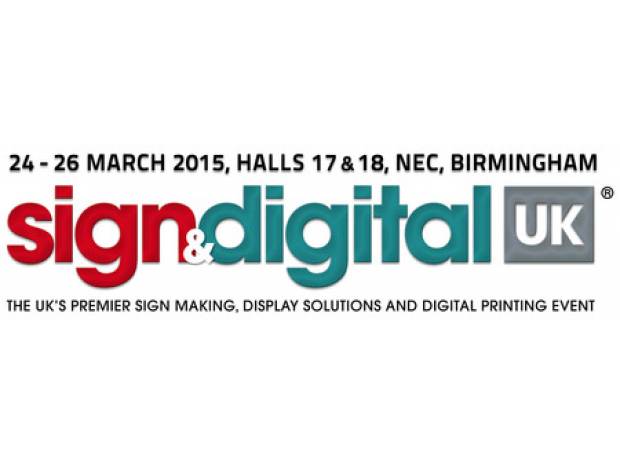 Sign & Digital UK
Sign & Digital UK, the country's leading trade exhibition for the sign making, display solutions and digital printing industry, takes place next week at the NEC, Birmingham on 24-26 March.
The exhibition, which is 20 per cent larger than in 2014, will again act as a launch pad for a range of new technologies and machinery aimed at the visual communications sector.
Here are just some of the product launches and prize giveaways that are taking place at the show.
Agfa Graphics
Stand E12
The super fast, super wide Anapurna M3200i RTR, one of Agfa Graphics' enhanced Anapurna i-series will be on show for the first time in the UK.
Applelec
Stand B40
Applelec will be holding a business card drop competition on stand for the chance to win a two-night escape including dinner at a choice of exclusive UK hotels.
Artillus-Ways2Display
Stand C60
Two new 10mm deep LED light boxes are being introduced at the show - a magnetic, hinged fronted light box that opens up like a clam shell allowing the graphic to be changed in an instant. The other style is 10mm deep, with a 22mm snap frame front. Both light boxes are available from as small as A5 up to AO size.
Atech
Stand G50
Atech will be launching and demonstrating seven new products that have never previously been seen in the UK, including the Bobis BLA Applicator Table, Elitron Kombo SDC digital cutter, TLS LED lighting systems, Matic Cronos Eco, Pongs Digital Textiles, Alupanel Edge Finishing for Dufaylite and Re-board and the Hollanders Textile Printer.
Blackman & White
Stand F10
Blackman & White will be showcasing its new Versa Tech cutter for the first time at a UK exhibition. The Versa Tech is able to cut widths up to 3.2m, and to carry out long production runs on heavy duty materials such as acrylics and DIBOND, thanks to the addition of a 2.5kW water-cooled router.
Bright Green Technologies
Stand E44
Bright Green Technology will be demonstrating its new range of wide-angle modules that are made with a patented optical lens that produces viewing angles of 140° for the mini version and 165° for the standard version.
CADlink Technology Corporation
Stand M16
CADlink Technology will present the "SignLab Theatre" for the second year running and there is also the chance for visitors to win a copy of SignLab 9.1 Print & Cut worth £2300 - one of the most powerful, dedicated sign making software solutions on the market.
Canon UK
Stand G10
Canon will be unveiling its two latest high-performance wide format colour printers- the Océ ColorWave 700 and the Océ ColorWave 500. The show marks the first opportunity to see the new model in action in the UK.
Colourgen/Mutoh
Stand E30
Another first time UK demonstration, Colourgen will be showcasing the new Mutoh ValueJet 426UF desktop flatbed LED UV printer. The new A3+ printer allows direct printing on a wide variety of solid materials and objects up to a thickness of 7cm. Also on show will be the Mutoh ValueJet 1638X with new Universal Mild Solvent inks in the new 1-liter bags.
CMYUK
Stand H10
Making its début at Sign & Digital UK this year, the leading wide-format specialist CMYUK, is set to demonstrate a comprehensive series of wide-format printers from the growing range of options from EFI and Mimaki, including a first time showing in the UK of the EFI H1625. As a special promotion every order received at the show will also receive a free Apple iPad.
Display Makers UK
Stand G60
Display Makers UK will unveil its new innovative display product, ISOframe Ripple, an ultra-lightweight, patented semi-flexible system that is set to take the industry by storm.
Fairfield Displays
Stand A30
Fairfield Displays will be launching several new products including its Sunbright sunlight readable screens, many new models of Light Pockets™ including coloured edges, custom coloured fronts, engraved edges and its new Pixalux illuminated display panel, which is set to revolutionise retail display environments and the application of light in store.
Friedheim International
Stand J34
Finishing equipment specialist Friedheim International will be demonstrating for the first time at a UK event, the Lasercomb ProDigi NEO 2517 large format multi-functional digital cutting system. This model is one in a range of larger format machines specifically developed by Lasercomb for the high demands of the signage, packaging and display industries.
Grafityp
Stands H30 and J30
Grafityp will be showcasing Tex Print which is suitable for creating colourful transfers on solvent and eco-solvent printers and print and cut machines such as the Roland VersaSTUDIO BN-20, or VersaCAMM range where you can print and contour cut on one machine. Grafityp UK Ltd will also show a new range of inkjet and laser transfer papers, collectively called FOREVER.
HPC Laser
Stand G64
HPC will be showing a video of its new metal cutting machine and are the first company in the UK supplying a metal cutter for under £20,000. There is also the chance for visitors to win a £1,000 voucher to be used alongside a new laser machine order in its prize draw.
Hybrid Services/Mimaki
Stand D10
This will be the UK's first public appearance of the new Mimaki CFL-605RT Compact Flatbed Cutting Plotter. The new machine offers both creasing and cutting capabilities and is designed to support immediate finishing of packaging and prototypes with its versatile functionality.
Hewlett-Packard
Stand D30
Hewlett-Packard will be giving a sneak preview of HP PageWide Technology. Visitors will be the first to learn how HP Large-format PageWide Technology can dramatically lower the overall costs of colour printing – at speeds substantially faster than current solutions. Visitors at the show can collect their VIP pass to the HP PageWide area from the HP stand.
INDASOL
Stand K37
INDASOL will launch its latest innovative UHB tape for mounting LED's and other light emitting devices. Made from pure acrylic, these tapes have excellent bonding strength and thermal conductivity. They also offer added benefits such as gap filling, anti-vibration, and noise control and replace the need for mechanical fixings such as rivets or screws.
InkTec/Jetrix
Stand G20 and H20
InkTec/Jetrix will use Sign & Digital UK 2015 as a launch pad for the European debut of their brand new 3.2m UV roll printer, the Jetrix RX3200. They will also launch their newest bulk filling system, a cost effective ink alternative for outdoor signage printers that could save up to 65% on ink costs.
ITC
Stand F42
ITC will use the event to launch a number of new products, including a comprehensive line of knife and plotting tools from a high quality Swiss manufacturer.
Landor UK Ltd
Stand E40
Landor UK Ltd will be launching two new additions to the Landor Phototex self adhesive fabric range, as well as presenting several new liquid protective coatings and primers, plus inkjet medias for current and new specialist applications including new Glassadhere for glass decoration.
Leopold
Stand F60
On the Leopold stand, Fotoba will launch its new XL170 WP + rewinders for wallpaper and new to the show is the On-A-Roll Lifter, a new Heavy Roll transporter for moving rolls of media around the production floor. With a maximum weight capacity of 400kg 5m wide, it is essential in addressing manual lifting health and safety Issues.
MTEX
Stand B10
MTEX Technologies will create a 'UK first', showing the newly launched MTEX Vision with direct disperse inks and the MTEX PAD coating machine together as a 'snapshot' of its total turnkey solutions.
Oshino LED Lighting
Stand M44
Lighting specialists OSHINO will demonstrate its new generation of lighting products for the sign maker, including its new Super Orbis LED Gen2 lighting system.
Perspex Distribution Ltd
Stand C40
Perspex Distribution Ltd (PDL) will début its newest product range – Transprint® Digital Media. Stand C40 will be home to a new range of digital print vinyl, overlaminates and banner graphics for signage and print.
printMAX
Stand F30
Color Optimizer by printMAX is a brand new colour management and ink saving solution available on the Mimaki and Roland stands. Brand new to the large format print market, Color Optimizer by printMAX has been tried and tested in the packaging industry.
printMAX is also offering all visitors who order a large format printer the chance to win VIP tickets to the 2015 Formula 1 British Grand Prix worth over £1,000. Any Mimaki JFX orders will be given an additional, guaranteed, ticket for the weekend.
Radecal
Stand G40
Radecal is offering visitors the chance to win a new MakerBot Mini 3D Printer. Visitors who purchase any machine from Radecal during the three-day exhibition will automatically be entered into the prize draw.
Resolute DTG
Stand F20
Resolute will be launching the Direct Color Systems UV MVP series printers at the show.
Roland DG
Stands F34 & G30
Prior to the official UK launch scheduled for later this year, Roland DG is offering visitors an exclusive preview of its transfer finishing solution – the Texart CS-64 calender press.
Russell & Chapple
Stand A28
Russell & Chapple will launch its newly revised E-shop www.tradestretcherbars.co.uk, at Sign & Digital UK 2015. This newly redesigned trade website is aimed exclusively at printers and will go live at the exhibition.
Shuttleworth Business Systems
Stand H14
Shuttleworth will be showing the latest developments to its powerful integrated MIS package and demonstrating the ultimate MIS tool for customer focused sign manufacturers. Designed to maximise opportunities with both customers and prospects alike, Shuttleworth's MIS package will highlight how its Production Planning system has real time feedback from the shop floor giving customers crucial production control.
Signmaster Systems
Stand B36
Signmaster will be launching Seiko's next generation H Series ColorPainter. See it first at Sign & Digital UK with a special demonstration from Frank Janschke (Head of Sales at Seiko).
Signwaves
Stand B60
Signwaves will showcase several exciting new products, including the improved Adfresco Café Barrier System. This patented barrier system lets the user partition areas – inside and out – whilst providing a great way to display their brand.
Soyang Europe
Stand A8
Specialist printable media manufacturer and distributor, Soyang Europe is set to unveil two brand new products, as it focuses on showcasing its substantial wide format portfolio at the exhibition. There will be exclusive European launches of Seal-Wise, a printable rigid substrate incorporating closed-cell technology and So-Netic, a printable and easily replaceable magnetic wall-covering.
Substance Europe
Stand H52
Substance Incorporated, a specialised manufacturer of premium print media, will launch its new ICON® line of products at Sign & Digital UK 2015. Known as the US market leader of premium print media for motocross graphics, Substance Incorporated has applied its knowledge and precision to craft some of the best signage materials in existence.
The Magic Touch
Stand H42
The Magic Touch will introduce another significant innovation for the production of full colour transfers to decorate garments, textiles and a vast range of non-textile applications. The new TMT/OKI LED desktop digital printers feature full colour capability together with a "White Toner" option.
Thinklaser
Stand C66
Thinklaser is introducing its new range of affordable flatbed laser cutting and engraving machines to the sign and display industry for the first time at the Sign & Digital UK show.
Trotec Laser
Stand E36
Presented in the UK for the first time at Sign & Digital 2015, Trotec Laser will demonstrate the new high-speed paper cutter. In the UK for just three days exclusively for the show, the SpeedMarker GS will officially launch later this year.
Ultraflex Europe
Stand B12
VorTex is an exciting new line of soft signage solutions brought to you by Ultraflex, the worldwide leader in digitally printable substrates. The VorTex line has been simplified and organised in a way that is consumer friendly, easy to understand and application driven.
Vivid Laminating Technologies
Stand F44
Vivid Laminating Technologies will be launching an entirely new product line at this year's Sign & Digital UK show. The firm will be introducing the Easymount Flow, a finishing table designed specifically to compliment its market-leading Easymount Wide Format Laminating Systems.
Sign & Digital UK exclusive giveaway
Sign & Digital UK is also offering an exclusive prize giveaway – a Roland DG Texart RT-640 printer package, worth more than £13,000. The prize will include a Roland Texart RT-640 64" wide dye sublimation printer, installation of the machine and a set of Texart inks. Also included with the prize is a one-year RolandCare Silver warranty.
Companies that pre-register at www.signanddigitaluk.com will automatically be entered into the prize draw, and must attend the show between 24 and 26 March to be eligible to win. The winner will be selected and informed in the month following the show. See the show website for full terms & conditions
Sign & Digital UK is free to attend and registration is now open. Please sign up at www.signanddigitaluk.com, or to enquire about exhibiting, please contact the show team on 0044 (0) 1342 332000, or email This email address is being protected from spambots. You need JavaScript enabled to view it.
About Sign & Digital UK (www.signanddigitaluk.com)
You can Tweet, Like us on Facebook, Share, Google+, Pinit, print and email from the top of this article.