MTEX to showcase its direct-to-textile digital solutions at ITMA 2015.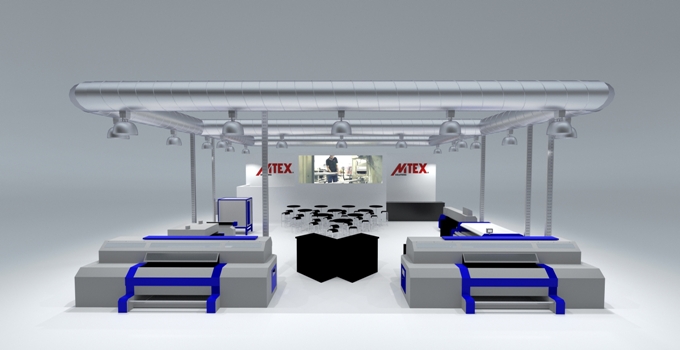 Meet the MTEX team at ITMA, Hall 18, Stand E112 MTEX has confirmed that it will be showcasing its complete direct-to-textile digital print solutions at ITMA 2015 Milan, (12-19 November, Hall 18, Stand E1120 for the very first time this year, with worldwide firsts.
MTEX Solutions offers a full range of machines covering the entire spectrum of the digital textile print workflow – including pre- and post treatment. The company's solutions are designed to enable digital printing onto woven and knitted fabrics using a range of printers with different ink types that include Reactive, Acid, Pigment and Disperse dyes. MTEX pointed out that this allows users to digitally print on to almost every fabric type including naturals, polyesters and polyamides, and includes finishing solutions for each one.
MTEX CEO Eloi Ferreira said: "When ITMA was last held in 2011, MTEX as a company had an ambitious idea, borne out of the wide format digital print sector with a driving ambition to bring digital technology, in the truest sense of the word, to the textile industry. The idea was revolutionary. Since then our technology and expertise has grown to the extent that we now offer a solution for almost any kind of digital textile print application for both the traditional textile industry and sign and display."
With worldwide sales now reaching 14 million Euros, MTEX believe its portfolio of products are tried and tested solutions that the industry has been calling out for.
The Booth
The MTEX booth in Hall 18 is being billed as an impressive, stand-alone, actual working industrial digital textile printing facility and will feature several worldwide launches that it hopes will help revolutionise the textile industry and showcase MTEX as leaders in their field.
Industrial Textile Lab & Sampling Solutions
The new MTEX industrial digital lab sampling solution is capable of preparing and producing one metre samples in half an hour and will sit comfortably inside an existing textile studio as much as being a stand-alone solution for digital textile printers worldwide.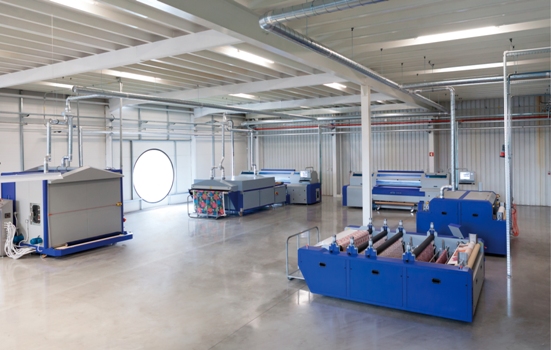 MTEX will be showcasing its complete direct-to-textile digital print solutions at ITMA Milan for the very first time this yearThe global launch includes the MTEX CW-100 coater and washer, the MTEX S-100 1 metre industrial sampling steamer and the MTEX D-100 1 meter dryer with rotating belt.
All of these solutions have been engineered and built to industrial standards at MTEX's headquarters in Porto, the heart of Portuguese textile production and as such, have been designed by textile professionals, for textile professionals.
Alongside the new coater, steamer and dryer, will sit the MTEX 500 with reactive inks and the whole workflow will be demonstrated throughout all eight days of the show as a working industrial laboratory and sampling studio.
Pigment printing solutions
Using only the best technology and highest quality components available, MTEX machines are engineered to industrial textile print standards, with award-winning Mimaki engines at the core.
The company claims that rarely has this industry seen a true digital pigment printing solution that will stand alone as a business proposition, with fixation seen as an expensive part of the process that either needs to be brought in-house with additional costs or outsourced which takes time and money and results in loss of control of the final output.
MTEX has overcome this problem and is bringing to market a true digital solution in its MTEX Blue for woven fabrics and MTEX Vision for knitted (stretch) fabrics, both with Pigment inks and in-built polymerisation for fixing the dyes to the fabric in-line in one seamless process.
To complete the offering specifically for the textile industry, both machines will come standard with Inedit NeoStampa Textile printing RIP, a powerful colour engine which can generate ICC RGB profiles that will provide absolute correspondence of colour from screen to the printer.
The MTEX Pad will also be shown for the first time at ITMA and completes the line up on the booth. It will be fully functional, coating for pre- and post- treatment of fabrics for digital printing.
Stewart Bell, MD of MTEX Technology in the UK commented,
"Anyone working in the traditional textiles industry will know how difficult it is to create small and short run digital print efficiently and cost effectively.

"Thanks to our complete turnkey solutions and a holistic approach to a universal problem, textile companies can now do this by adding digital technology into their existing businesses, allowing them to offer a more bespoke printing solution for seasonal and custom collections, and prototyping garments and fabrics.

"In addition, businesses looking to enter the textiles market for the first time, such as sign and graphic display professionals wanting to take advantage of the growing trend for personalisation and soft signage, will be able to find a solution that meets their needs."
Ferreira concluded: "ITMA, with its focus on technological developments, sustainability and emerging trends, is the perfect platform for MTEX.
"We've come a long way and we're certainly not resting on our laurels. We are continually pushing forwards and innovating to offer the customer the best choice in the market. Our philosophy is to offer a fresh new approach to digital textile print that truly reflects the digital age we live in, using the best minds and technology available today and we look forward to welcoming visitors to ITMA to our booth to see for themselves just how far this technology has come and how easy it is to integrate into their businesses."
For more information on MTEX visit www.mtex.eu.