Customer pre-registrations grow 20 per cent for annual Las Vegas print industry event.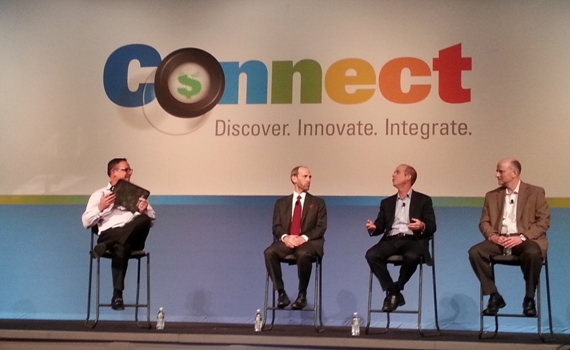 L-R- EFI's Frank Mallozzi and customers at Connect 2014. Attendance for Connect 2015 is up 20%.EFI™ has confirmed that it will, once again, set a new record in attendees for its 15-year-old Connect users' conference. It announced a sell-out crowd of more than 1,500 EFI customers, partners and employees had registered for the 20-23 January event at the Las Vegas Wynn Resort. EFI said that customer attendance at Connect had grown significantly, with customer registrations up 20 per cent from Connect 2014.
"This year's conference sold out nearly a week earlier than last year, even though we secured incremental accommodations to have more customers attend in 2015," said Frank Mallozzi, EFI's senior vice president of worldwide sales and marketing. "We are very excited to welcome our customers and partners to what will be one of the best industry education and networking events of the year."
EFI users from 25 different countries are attending, a figure that makes this year's conference the most international Connect conference to date. EFI pointed out that attendees will benefit from a complete slate of expert industry information covering many of the detailed workflow, business management and marketing strategies printing companies can use to fuel their success. The conference's 200+ educational sessions include technical expert training for MIS/ERP workflow, web-to-print, eCommerce, digital front end, print management and inkjet production printing using EFI's product portfolio.
Those attending this year will have the opportunity to hear insights from keynote speakers Thomas Quinlan, CEO of RR Donnelley, and Avi Reichental, CEO of 3D Systems, as well as from EFI leadership. The conference also features a business development track developed and led by senior consultants from industry analyst firm InfoTrends. And, for the first time, the conference will be co-located with the 2015 AMSP/NAPL/NAQP Executive Leadership Summit.
In addition to exhibits from EFI's portfolio of Fiery digital-front-end technologies, print MIS/ERP software, web-to-print and eCommerce systems, and UV inkjet printers, EFI Connect will include exhibits from partner companies, including Xerox, which is an exclusive platinum sponsor for the conference; gold sponsors Canon and Kodak; and bronze sponsors 3M Commercial Graphics; AccuZIP; BCC Software; Esko; ESP/SurgeX; Honle UV America; Heytex Corp.; Konica Minolta; MBM Corp.; the Print and Graphics Scholarship Foundation; Ricoh Production Print; and Zünd.
For more information about EFI products, visit www.efi.com
You can Tweet, Like us on Facebook, Share, Google+, Pinit, print and email from the top of this article.
Copyright © 2015, DPNLIVE – All Rights Reserved.