Come and meet MTEX at 'Meet the Manufacturer' 2015.

The MTEX5032HS, with newly launched pigment ink suitable for home textiles such as beddingMTEX Technologies has confirmed that it will showcase its 'Micro Digital Textile Industry' solutions at 'Meet the Manufacturer' conference and trade show event at London's historic Tobacco Dock (3-4 June 2015).
Organised by Make it British, the website dedicated to UK manufacturing, this event is billed as a unique trade show and will showcase over 100 of the best British clothing manufacturers, textile mills, leather goods makers and suppliers to the UK apparel and textile industry.
"We're looking forward to discussing the opportunities offered by a complete turnkey solution that is fully manufactured, installed and supported by MTEX," said Stewart Bell, MD of MTEX Technologies UK.
"Our Micro Digital Textile Industry solutions deliver a complete digital textile print workflow, whatever a client's textile needs, from producing a few square metres to a few thousand."
The MTEX range offers digital printing onto stretch and non-stretch fabrics using reactive dyes with the MTEX 500C, and printing onto polyamides for beach and swimwear with the MTEX 500P. It also offers pigment ink and direct disperse printing for two-way and four-way stretch fabric with its MTEX Vision, and the company has just launched pigment ink for the MTEX 5032HS, suitable for home textiles such as bedding. The MTEX Pad for fabric preparation (pre-coating) then the MTEX Steamer for finishing and fixing the printed reactive dyes and the MTEX Wash complete the full turnkey solution.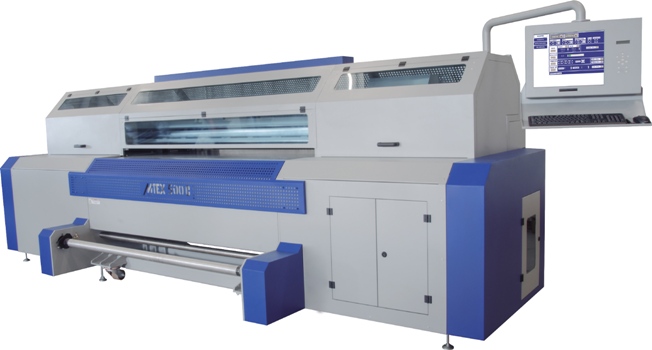 The MTEX 500C, for printing onto stretch and non-stretch fabrics using reactive dyes "Companies visiting the show who are already working in the traditional textiles industry will know how difficult it is to create small and short run digital print efficiently and as cost effectively as with traditional methods" he added.
"Now, uniquely under the one brand of MTEX, textile companies can adopt digital technology into their existing businesses and offer their customers a more bespoke printing solution for seasonal and custom collections, and prototyping garments and fabrics.
"New entrants to the industry will also be able to find an affordable solution from MTEX. As the organisers say - if you are looking to make products in the UK then you need to be at the Meet the Manufacturer in June 2015."
For more information go to www.mtex.eu or visit Meet the Manufacturer, 3-4 June Tobacco Dock, London E1W 2SF (see www.meetthemanufacturer.co.uk).
You can Tweet, Like us on Facebook, Share, Google+, Pinit, print and email from the top of this article.
Copyright © 2015, DPNLIVE – All Rights Reserved.