Two digital textile printers from its portfolio to be showcased.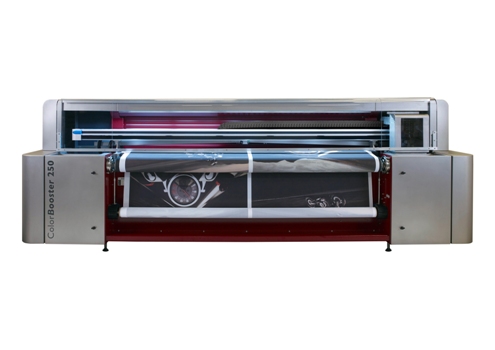 The Hollanders ColorBooster 250Hollanders Printing Systems has decided to demonstrate two digital textile printers from its portfolio, the ColorBooster 250 and the ColorBooster XL, plus its ColorFix fixation unit that is suitable for use with all sublimation and disperse platforms at this year's FESPA in Cologne, Hall 7: stand H45, 18-22 May.
In addition, the Eindhoven based specialist developer and manufacturer will feature full information about its innovative double-sided ColorBooster DS that is available in two widths of 2.1m and 3.2m, and its ColorWash textile washing machine.
The 2.5m Hollanders ColorBooster 250 will be demonstrated in typical configurations of the machine since it made its European début at least year's event. For users wanting a 3.2m industrial strength digital textile printer, the Hollanders ColorBooster XL is designed for high productivity using low energy sublimation and high energy disperse dyes. Both machines benefit from a wide colour gamut with strong blacks and excellent colour saturation for vibrant results.
Hollanders maintain the growth in demand for the environmental benefits offered by digital textile printing has proved that FESPA offers the best exhibition platform for its printing systems and its technologies. With machines that now encompass a broad variety of end-user productivity and budgetary requirements, the company is also offering attractive leasing packages with highly competitive rates and affordable payment schemes.
The company said that after its successful European début at FESPA Digital 2014, the 2.5m ColorBooster 250 returns to the event this year as its market appeal targets digital print producers, screen-printers and sign-makers who want to benefit from high-end quality and good productivity in return for a low investment cost. This compact and ergonomically designed machine carries many of the features included in the well-established industrial-strength ColorBooster XL and also can be used with low-energy dye sublimation inks or, for interior and exterior graphics, with high energy disperse dyes.
Available in a choice of configurations, the ColorBooster 250 is a modular digital textile printer that can be upgraded as and when greater productivity and versatility are both needed. The ColorBooster XL also comes with a broad choice of options, including numbers of additional colours. Both machines incorporate the special media handling system developed by Hollanders for its printing systems, on-board remote support and the options for integrated humidity and temperature control. Users can select on purchase, or at a later date, the numbers of print-heads and colour channels according to speed preferences and application requirements.
Complementing the ColorBooster 250 and ColorBooster XL print solutions, the ColorFix is an independent unit which can be used as a colour fixation machine autonomously, regardless of printer manufacturer. Hollanders maintain it incorporates middle-wave infra-red energy with zero contact and the guarantee of exact and consistently accurate temperatures across the entire surface of the fabric. In its view, this enables precision fixation of the colours without any deformation, resulting in very high UV resistance, durability and colour vibrancy. It added, because there is no waste material and its use of energy is low, this system is economic in use and eradicates the need for heat presses and steaming equipment.
The Hollanders ColorFix incorporates its own computer to measure and control both the temperature and the tension of the fabric, with pre-sets for different types and widths of materials. A roll-to-roll device, it is designed to integrate seamlessly with an end-to-end workflow and, typically, keeps pace with three ColorBooster printers, post processing using high temperatures for the best quality fixation that removes the margin for error. The company added that being an independent device means that productivity is more efficient as the compromises typically found in integrated print-and-fix systems are eliminated, allowing for greater versatility and higher levels of productivity.
At FESPA, Hollanders will have available full details of its product portfolio, inks and finance options. This includes the ColorBooster DS duo of machines which incorporates simultaneous double-sided production and integrated fixation. Additionally, the company's ColorWash is a modular unit which incorporates washing, drying and ironing in a fully automated process. Its onboard processor system controls water temperature, washing speed, soap concentration, media tension, drying and ironing, thus making it a fully integrated unit for finishing digital textile prints.
http://www.hollanders-ps.nl/en/home
You can Tweet, Like us on Facebook, Share, Google+, Pinit, print and email from the top of this article.
Copyright © 2015, DPNLIVE – All Rights Reserved.