New line-up also includes notebook docking monitor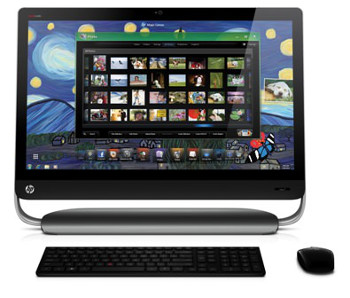 Bodie CoreSet Front Keyboard MouseHP unveiled a number of new consumer PCs and commercial displays aimed at consumers and professionals ahead of the 2012 International Consumer Electronics Show (CES) held in Las Vegas, Nevada, USA on January 10th-13th.
The new line-up included:
HP Omni27 PC: the company's first 68.6 cm (27") all-in-one PC and the first non-touch HP PC to feature HP's exclusive Magic Canvas software.
HP Compaq L2311c Notebook Docking Monitor: built to pair with a notebook PC via its USB port to provide an efficient, comfortable workspace for mobile professionals.
The HP Omni27 All-in-One PC is designed specifically for consumers who demand top class design, simplicity and performance and an expanding viewing experience. Its flat panel display features edge-to-edge glass and tilts up to 25 degrees, allowing users to adjust the 68.6 cm (27") diagonal high-definition (HD) screen to suit their comfort level.
Featuring HP's Magic Canvas software it allows the desktop to expand horizontally and accommodate all the photos, videos and applications consumers need. Windows desktop shortcuts, task bar and start menu can all be accessed through the Magic Canvas allowing users to work without ever leaving the interface. There are some convenient features like HP LinkUp which lets users access and edit content from a notebook PC on the Omni27's large display with virtually no file transfer hassles.
The HP Omni27 comes with multi-core processors, advanced HD graphics and up to 2TB (TB = 1 trillion bytes) of storage space. HP maintains that additional standard features such as Beats Audio, and optional ones such as the Blu-Ray disc drive and TV tuner make it the ultimate multimedia machine.
The company also announced the launch of the HP Compaq L2311c 58.42cm (23") Notebook Docking Monitor, cleverly designed to provide mobile professionals with a desktop experience via one easy connection from a USB cable to any notebook PC with a USB 2.0 or 3.0 port.
This new docking monitor sports a full HD, LED backlit LCD display panel and features HP Smart AC Technology that powers and charges HP notebook PCs while also detecting and regulating the capacity of the electrical current.
It creates an expanded plug-and-play workspace for increased productivity with one USB connection that provides full HD video, internet connectivity and access to peripherals directly from the monitor's integrated Ethernet, SuperSpede USB 3.0 and USB 2.0 ports.
The HP Compaq L2311c features a built-in 720p high-definition webcam and is equipped with HP MyRoom business edition software and Cyberlink YouCam, a webcam tool that eases communication with co-workers and clients in any location.
Pricing and availability
The HP Omni27 All-in-One PCs are expected to be available on March 5th in EMEA. Irish release date not available yet. Pricing yet to be announced.
The HP Compaq L2311c is expected to be available in April 2012 in EMEA. Again, Irish release date not yet available; pricing still to be announced.
Copyright © 2011, DPNLIVE – All Rights Reserved