Rising demand for high-end POP signage brings

an EFI VUTEk HS100 Pro to The Garvey Group.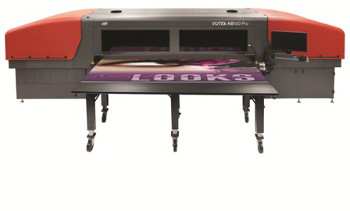 VUTEk HS100 ProAn announcement was made at the recent GlobalShop 2014 retail, design and visual merchandising show in Las Vegas by EFI™ and The Garvey Group that a new EFI VUTEk® HS100 Pro UV inkjet press had been installed at The Garvey Group's Los Angeles production facility.
The investment in the new, high-volume press was taken to give The Garvey Group increased capacity to meet a growing entertainment and national retailer demand for premium, point-of-purchase (POP) signage. The 3.2-meter wide press was also chosen to increase The Garvey Group's service capabilities in high-end indoor and outdoor promotional graphics for Hollywood TV and film studios.
EFI maintains the press purchase puts The Garvey Group at the forefront of superwide-format imaging capabilities, expanding the capacity and quality the company offers through its national fleet of digital and litho production presses.
"Quality and speed are essential to our retail and entertainment industry customers, and they need suppliers who are proactive in their ability to consistently produce accurate, high-end work under tight deadlines," said Ed Garvey, CEO of The Garvey Group. "Our talented teams partnered with EFI several years ago to establish an advanced graphic imaging platform that helps our customers build their brands. Now, the faster, higher-volume EFI VUTEk HS100 Pro is taking The Garvey Group's reliability, quality and support offering to new heights."
The VUTEk HS100 Pro prints on a wide variety of roll and rigid media.EFI said it also offers throughput comparable to screen printing, with print quality that approaches offset. Operating at speeds up to 100 boards per hour, the press has a number of imaging- and productivity-enhancing features including:
Printing in up to eight colours, including white ink and a unique, multi-layer printing capability for superior visual appeal on backlit displays and other applications.
EFI's Pin & Cure imaging technology, designed to offer precise ink lay-down for critical colour accuracy and consistency, gloss control and an increased colour gamut.
True, variable-dot grayscale inkjet head technology for higher image quality and better matching of brand colours.
"EFI has a long and successful history of working with The Garvey Group and we are excited about arming this valued customer with the best-in-class capabilities of our high end EFI VUTEk HS100 Pro inkjet press," said Frank Mallozzi, senior vice president, worldwide sales and marketing, EFI. "With this press, The Garvey Group can offer a higher level of speed and quality to businesses in the retail and entertainment industries."
For more information about EFI VUTEk and other EFI inkjet printers, visit www.efi.com

More information on The Garvey Group is available at www.thegarveygroup.com.
Follow us on Twitter - @DigiPrintNews
Like us on Facebook www.facebook.com/DPNLive - (click the 'LIKED' button/top of page as well)
Copyright © 2014, DPNLIVE – All Rights Reserved.