Goss International highlights the benefits of web offset for packaging during drupa panel Brazil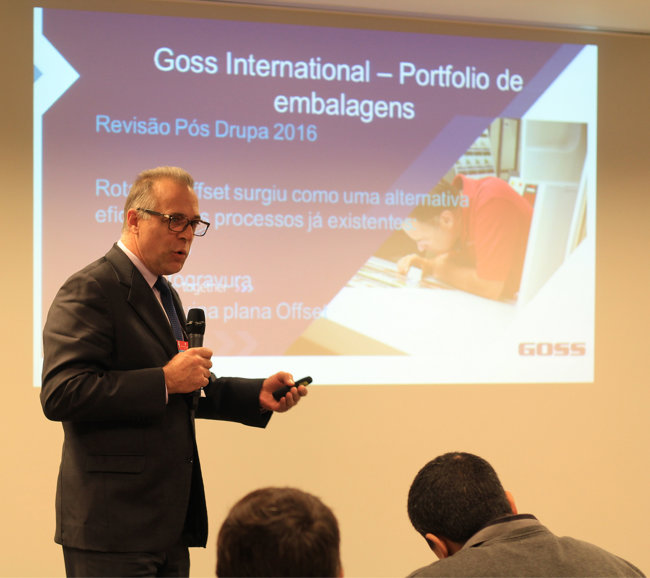 Vitor Dragone, General Manager of Goss Brazil, presented details of Goss' comprehensive packaging portfolio
Goss International Brazil announced on 2nd August that they sponsored and presented one of the most important events in the packaging sector, the drupa panel. Attendees were provided with details of the latest Goss technology innovations, the current packaging market trends and how web offset printing is meeting and exceeding these market demands.
The event, organized by the Instituto de Embalagem, took place after drupa 2016 on June 28th in Sao Paulo, and was attended by approximately 150 delegates. The agenda was focused around insightful presentations from a host of industry experts, detailing the latest products and trends within the packaging sector, specifically those announced at drupa 2016.
Vitor Dragone, General Manager of Goss Brazil, presented details of Goss' comprehensive packaging portfolio, including the Sunday Vpak series and the recently acquired Goss Thallo hybrid systems. Dragone also discussed the many benefits and cost-efficiencies of the web offset printing process versus other processes used by packaging converters.
Speaking about the event, Dragone commented, "The event was highly positive and beneficial to all who attended on a number of levels. From our side, it's really interesting to see how the debate on package printing has changed since our web offset systems were introduced. Web offset systems, and specifically those in Goss' portfolio, have now proven to be robust and cost-effective solutions for short and medium run lengths. Customers and prospects have witnessed the clear advantages of high flexibility and uptime, whilst maintaining high levels of quality. Specifically, the modular hybrid system of the Goss Thallo allows converters to combine all of the benefits of web offset with the inherent advantages that flexo, gravure and digital can offer. This provides additional benefits to their businesses and helps them to continue to address today's market requirements."
Goss Sunday Vpak and Thallo web offset press models for folding carton, flexible packaging, pre-print and label applications are available in web widths from 20.5 to 75 inches (520 to 1905 mm) and print at speeds of up to 1,500 feet (457 meters) per minute. Key features include quick-change sleeve adapter technology for efficient, cost-effective size changes, advanced offset inking, precise tension control and advanced pre-setting systems.